Ipad
GRID: Interactive multi-touch sound visualization by @futuraepsis1 made in #Processing - controlled via iPhone/iPad #oF. GRID is an interactive multi-touch sound visualization for the band Mathon and the ZKM AppArtAward 2011.
Created for live events, the application consists of a desktop version for realtime graphic visualization of music – created using Processing and also an iOS version for interacting with the Processing app – created using openFrameworks. The basic appearance is based on a shape that deforms synced to an audio signal. A never ending journey through portal-like visuals, organic and technical scenes take the viewer into a surreal feeling atmosphere. Forming rapidly changing pictures out of those shapes the viewer seems to be part of electrical impulses catching short impressions of the human and his role in the universe….. Using an iPad or an iOS capable device people can diretly interact with the music visualization. Catweasel-Patches. AVS AVI Joiner.zip (8.44 Kb) Loop fix for Elektro's AVS joiner <a SetRenderer2.1.rar (4.51 Kb) Woeis rather wonderfull set renderer, now with extra depth buffer!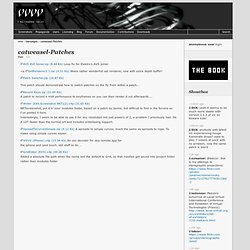 Patch Switcher.zip (14.87 Kb) New Demo of Mavelous, the mobile Mavlink GCS - DIY Drones. Collection of Open Source Apps and Sample Code. Open Source iPhone And iPad Apps – Real iOS Source Code Examples. Welcome to the sixth iteration of the open source iPhone and iPad apps list.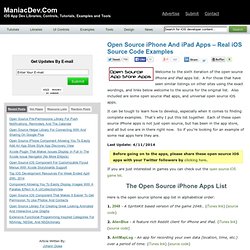 A For those that have seen similar listings on other sites using the exact wordings, and links below welcome to the source for the original list. Also included are some open source iPad apps, and universal open source iOS apps. It can be tough to learn how to develop, especially when it comes to finding complete examples.
---