Code-interaction
이 장에서는 OpenGL에서 공간상에 물체를 원하는 위치에 위치시키고 원하는 방향으로 움직이거나 회전하는 방법에 대해서 알아본다. 최종적 실습으로 두개의 구를 이용해서 첫번째 구는 화면 중앙에서 제자리에서 회전을 하며 두번째 구는 첫번째 구를 중심으로 일정한 거리를 유지하면서 동시에 자신의 중심점을 기준으로해서 회전하는 것을 구현해 본다.
Hyoung-Jun(김형준) GIS Lab -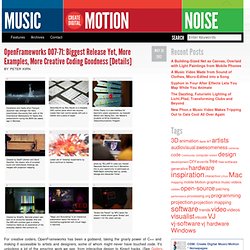 For creative coders, OpenFrameworks has been a godsend, taking the gnarly power of C++ and making it accessible to artists and designers, some of whom might never have touched code.
OpenFrameworks 007-71: Biggest Release Yet, More Examples, More Creative Coding Goodness [Details]
openframeworks/openFrameworks
OF forum - Index - openFrameworks forum
OpenFrameWorks - OpenFrameWorks 최근 상황들
OF의 iPhone 라이브러리가 얼마전에 오픈되었고 지금 0.61 버전의 배포가 임박했다는 사실은 다들 알고 계시리라 생각됩니다. OF로 iPhone Apps를 만드는게 좋은 아이디어인지는 잘 모르겠지만 그래도 그나마 쉽게 접근할 수 있는 개발환경이 생겨서 다행이라고 생각합니다.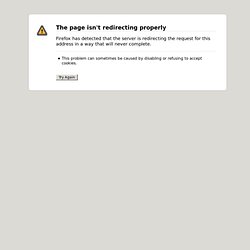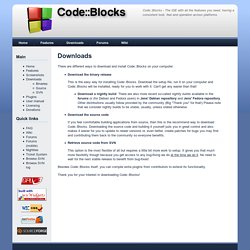 There are different ways to download and install Code::Blocks on your computer: Download the binary release This is the easy way for installing Code::Blocks.
Downloads
HowTo Sensors
Inputting signals into vvvv There are many options of inputting signals into your computer.