Professionisti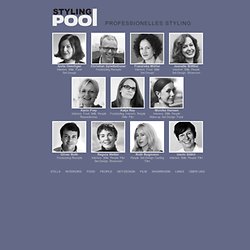 Anita Oeschger, Christian Splettstösser, Franziska Müller, Jeanette Blättler, Karin Frey, Katja Rey, Monika Hansen, Oliver Roth, Regula Wetter, Ruth Bugmann, Uschi Stähli Stylingpool vermittelt Stylistinnen und Stylisten für Fotografie und für Film, Styling von Stills, Interiorstyling, Foodstyling und Rezepte, Styling von People und Styling für Set-Design. Stylingpool procures professional stylists for photography and for film, styling for stills, interiors styling, foodstyling und recipes, styling of people and styling for set-design.
Professionelles Styling
Meret Bissegger - LA CUCINA NATURALE - Home
Pronto il programma 2014 A partire da subito trovate qui il nuovo programma dei corsi di cucina, che in primavera sono dedicati alle piante selvatiche commestibili. È pronto anche il programma delle Tavolate: i menu sorpresa primaverili contengono anche qualche assaggio del raccolto dei campi se le bizze del tempo ce lo permettono!Un caloroso invito agli amici italofoni: affrettatevi ad iscrivervi, perché i nostri amici d'oltralpe sono molto veloci! Nel frattempo i lavori per il nuovo libro di cucina, dedicato alle verdure autunnali ed invernali, stanno procedendo a pieno ritmo.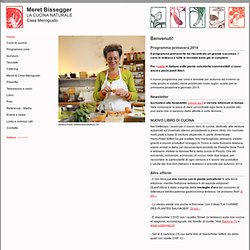 Paco Torreblanca | Jacob torreblanca --- Torreblanca maestro chocolatero bombones artesanos - pastelería totel
Osteria Francescana - L'osteria di Massimo Bottura.
unnamed pearl
Pagina Oficial de La Patería de Sousa - Empresa
lomejordelagastronomia.com
The Fat Duck Restaurant, Heston Blumenthal
Maison Troisgros
www.ticketsbar.es
Oriol Balaguer
Mugaritz
Maison Troisgros - Actualités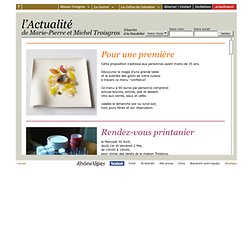 Cette proposition s'adresse aux personnes ayant moins de 35 ans.
Bienvenue sur le site officiel de Paul Bocuse
Michelin 3 Star Restaurants around the world
Andy Hayler's Michelin Restaurants Guide -michelin-restaurants-star-guide