Professionisti
Professionelles Styling. Anita Oeschger, Christian Splettstösser, Franziska Müller, Jeanette Blättler, Karin Frey, Katja Rey, Monika Hansen, Oliver Roth, Regula Wetter, Ruth Bugmann, Uschi Stähli Stylingpool vermittelt Stylistinnen und Stylisten für Fotografie und für Film, Styling von Stills, Interiorstyling, Foodstyling und Rezepte, Styling von People und Styling für Set-Design.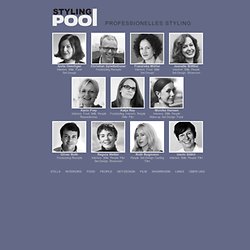 Stylingpool procures professional stylists for photography and for film, styling for stills, interiors styling, foodstyling und recipes, styling of people and styling for set-design. Meret Bissegger - LA CUCINA NATURALE - Home. Programma primavera 2014 Il programma primaverile ha riscontrato un grande successo.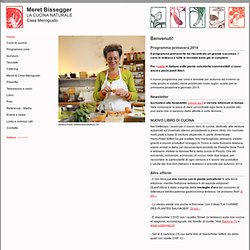 I corsi in tedesco e tutte le tavolate sono già al completo. Per i corsi in italiano sulle piante selvatiche commestibili ci sono ancora pochi posti liberi. il nuovo programma per corsi e tavolate per autunno ed inverno (a volte anche in estate) viene pubblicato inizio luglio; quello per la primavera prossima a gennaio 2015. Paco Torreblanca | Jacob torreblanca --- Torreblanca maestro chocolatero bombones artesanos - pastelería totel. Osteria Francescana - L'osteria di Massimo Bottura. Untitled. Pagina Oficial de La Patería de Sousa - Empresa.
Lomejordelagastronomia.com. The Fat Duck Restaurant, Heston Blumenthal. Maison Troisgros. Oriol Balaguer. Mugaritz. Maison Troisgros - Actualités. Bienvenue sur le site officiel de Paul Bocuse. Andy Hayler's Michelin Restaurants Guide -michelin-restaurants-star-guide. Michelin 3 Star Restaurants around the world How about overall distribution of Michelin stars?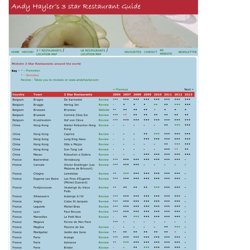 In 2005 the distribution of stars by country was as follows. It is impractical for me to do this for subsequent years due to the difficulty of getting the data from Michelin.
---