EmberJS
Note: This post is a refresh of Yehuda Katz's post of June 11, 2011, Using SproutCore 2.0 with jQuery UI . Thanks to Yehuda for his review. Another note: Updated on 8/24/2012 to bring up to date to ember-1.0.pre from 8/3/2012. One of the goals of Ember.js is to make it trivial to integrate the tools you're already using. One way that we do that is to make it possible to drop an Ember app into a small part of your existing page.
Luke Melia » Using Ember.js with jQuery UI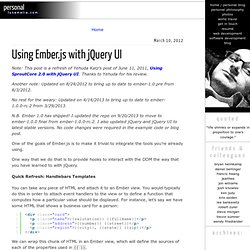 flamejs/flame.js
Ember and D3: Building responsive analytics
April 04, 2012 A few months back, as we sat down to think about how Square was going to transform the over-the-counter experience with Register 1.0, we also realized that we wanted to augment our users' understanding of their own businesses with more analytics. We wanted our merchants to have even more visibility into their Square transactions, and be able to surface actionable metrics on the performance of their businesses through serendipitous discovery and interaction. In other words, we were determined to build the best user experience for our merchants, with a responsive and intuitive interface, on top of giant piles of payments data. In a web browser. Here's how we did it.