Social Marketing Case Studies
SoMeMa - Social Media Marketing Case Studies, Policies, Insights and more. The Fantabulous Lists of Social Media Case Studies. Social Media Case Studies. Some brand spanking new social media case studies added to the Social Media Case Study Hot List and a link to a blog with 40 Social Media Staff Guidelines!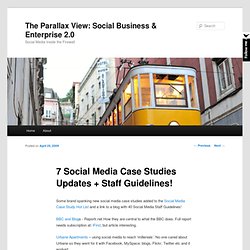 BBC and Blogs - Reportr.net How they are central to what the BBC does. Full report needs subscription at: iFirst, but article interesting. The ROI of Social Media: 10 Case Studies. The question of whether or not social media drives ROI still plagues many marketers and brands.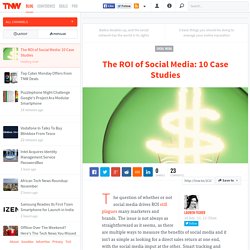 The issue is not always as straightforward as it seems, as there are multiple ways to measure the benefits of social media and it isn't as simple as looking for a direct sales return at one end, with the social media imput at the other. Smart tracking and measuring is needed to fully capture the benefit of a social media campaign and while looking for direct ROI is one way to do it, there are other values to be measure from social media marketing. I've put together a list of case studies that prove the ROI of social media, both through direct monetary return, customer loyalty, repeat traffic and more. Viewing social media holistically to gain a better understanding of how it can work for you is more beneficial to any brand than looking for one single return.
3 Social Media Marketing Case Studies You Can't Afford To Ignore. 15 Case Studies to Get Your Client On Board With Social Media. Jonathan Rick is a social media strategist in Arlington, VA.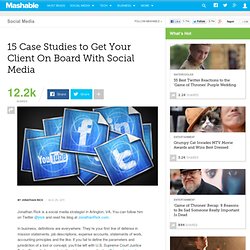 You can follow him on Twitter @jrick and read his blog at JonathanRick.com. In business, definitions are everywhere. They're your first line of defense in mission statements, job descriptions, expense accounts, statements of work, accounting principles and the like. If you fail to define the parameters and jurisdiction of a tool or concept, you'll be left with U.S. 5 Social Media Marketing Case Studies. Social media is about building relationships through value creation.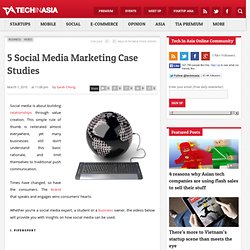 This simple rule of thumb is reiterated almost everywhere, yet many businesses still don't understand this basic rationale, and limit themselves to traditional push communication. Times have changed, so have the consumers. The brand that speaks and engages wins consumers' hearts. Whether you're a social media expert, a student or a business owner, the videos below will provide you with insights on how social media can be used. 30 SEO, Social Media & Marketing Case Studies that Prove the ROI of it All. Social Media Case Studies. A Wiki of Social Media Marketing Examples.
Social Media Case Studies & Examples. Are you using content marketing as part of your digital strategy to grow your business?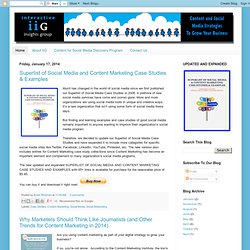 If so, you're not alone. According to the Content Marketing Institute, the lion's share of marketers (some 92%) report using content marketing. In the fast moving world of digital strategy, things are always changing. What should you expect in 2014 to change in the world of content marketing? Hana Abaza of Uberflip has put together an infographic detailing five key content marekting trends for the coming year. Social Media Marketing Industry Report. Social Media Marketing Industry ReportBy Michael Stelzner Social media is seen by many marketers as the next gold rush.
NOTE: Click here to see the 2012 version of this report. To understand how marketers are using social media, we commissioned the Social Media Marketing Industry Report: How Marketers Are Using Social Media to Grow Their Businesses. We set out to uncover the "who, what, where, when and why" of social media marketing with this report.
---
persulla May 11 2014

thank you for this pearl tree!!!
---