Pharmacetical Market Information
IMS Health Forecasts Global Pharmaceutical Market Growth of 5-7 Percent in 2011, Reaching $880 Billion | Biopharma Forecasts & Trends | The IMS Institute | Insights. Global Pharmaceutical Industry Growth to Slow in 2008. IMS Forecasts Global Pharmaceutical Market Growth of 5-8% Annually through 2014; Maintains Expectations of 4-6% Growth in 2010 | Press Releases | Press Room. The Global Pharmaceutical Industry. Global Value Chains: Major Firms ::Location ::Top Companies (according to market share measured by sales) ::Changes in Market Share Over Time Location The major firms that pioneered the industry back in the early 20th century were located in Switzerland, Germany, UK, and the US.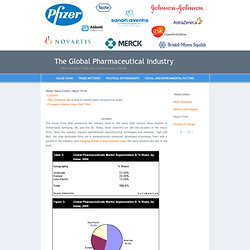 Today, these countries are still the location of the major firms. Since the industry requires sophisticated manufacturing techniques and intensive, high-cost R&D, the most profitable firms are in predominantly advanced, developed economies. Pharmaceutical Market Trends 2010-2011, Pharma Market Forecasting, Pharmaceutical Industry Trends. The global pharmaceutical market research has been done by many companies and almost all of the market reports indicate a significant growth of pharma market in 2010-2011.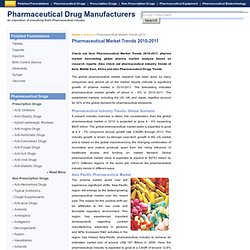 The forecasting indicates pharmaceutical market growth of about 4 - 6% in 2010-2011. The established markets, including the US, UK, and Japan, together account for 30% of the global demand for pharmaceutical excipients. Pharmaceutical Industry Trends- Global Scenario If present industry overview is taken into consideration then the global pharmaceutical market in 2010 is projected to grow 4 - 6% exceeding $825 billion.
---