Manufacturing
Manufacturing is the largest source of greenhouse gas (GHG) emissions. In 2007, global manufacturing industries accounted for about 40% of total CO2 emissions. As a result, carbon management and reduction have become serious issues for manufacturers in practically every country around the world.
» Carbon Management in the Global Manufacturing Sector Pike Research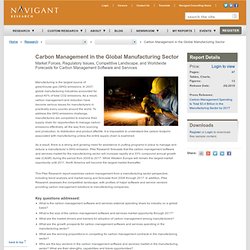 China Mike's 100% verified, no B.S. China facts (interesting & fun statistics): China is expected to be the world's biggest manufacturing nation in 2011 , when it is expected to end the U.S.'s 110-year run as the number one country in factory production. In 2009, the U.S. created 19.9% of the world's manufacturing output, compared to China's 18.6%. [ IHS Global Insight, a US-based economics consultancy ] According to a 2008 National Geographic cover story "China: Inside the Dragon": 70% of the world's umbrellas are made in China. 60% of the world's buttons are made in China. 9% of Chinese goods sent to the U.S. end up on Wal-Mart's shelves. 72% of U.S. shoes were made in China. 85% of all U.S. artificial Christmas lights are made in China. 50% of U.S. kitchen appliances are made in China. 50% of U.S. toys are made in China.
Facts about China: MANUFACTURING & WORKFORCE | 2010-2011 statistics
2011 report reveals China manufacturing hourly labor rate, compensation costs impact EMS | VentureOutsource.com
China's hourly manufacturing labor rates are far below rates in Japan ($27.80) and Taiwan ($8.68) but roughly on par with nations like the Philippines ($1.68). China manufacturing compensation costs slightly higher than those in India. Many EMS / ODM companies in China, especially those making PCs, are moving operations inland.
IMF trims India's growth rate to 7.5-7.75 percent in 2011-12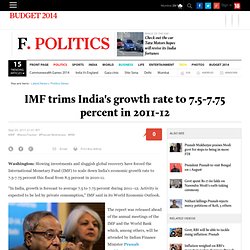 Washington: Slowing investments and sluggish global recovery have forced the International Monetary Fund (IMF) to scale down India's economic growth rate to 7.5-7.75 percent this fiscal from 8.5 percent in 2010-11. "In India, growth is forecast to average 7.5 to 7.75 percent during 2011–12. Activity is expected to be led by private consumption," IMF said in its World Economic Outlook. Finance Minister Pranab Mukherjee. PTI The report was released ahead of the annual meetings of the IMF and the World Bank which, among others, will be attended by Indian Finance Minister Pranab Mukherjee .
China GDP Growth Rate at 2.20 percent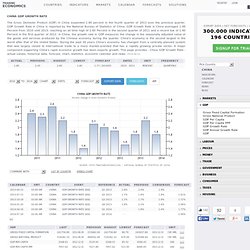 According to preliminary accounting, the GDP of China was 51,932.2 billion yuan in 2012, a year-on-year increase of 7.8 percent at comparable prices. Specifically, the year-on-year growth of the first quarter was 8.1 percent, 7.6 percent for the second quarter, 7.4 percent for the third quarter and 7.9 percent for the fourth quarter. The gross domestic product of the fourth quarter of 2012 went up by 2 percent on a quarterly basis. The value added of the primary industry was up by 4.5 percent; the secondary industry up by 8.1 percent; and the tertiary industry up by 8.1 percent. The total value added of the industrial enterprises above designated size in 2012 was up by 10 percent at comparable prices, the annual growth of the heavy industry was 9.9 percent, and 10.1 percent for the light industry.
Top 10 Most Powerful Countries In 2011 | Sublime Oblivion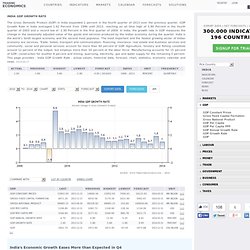 India GDP Growth Rate at 7.70 percent
GDP Growth Rate The GDP Growth Rate shows a percentage change in the seasonally adjusted GDP value in the certain quarter, compared to the previous quarter. Because of climatic conditions and holidays, the intensity of the production varies throughout the year.
Lists of countries by GDP
The economy of The Republic of India with an estimated GDP growth of 5% [ 13 ] is the tenth-largest in the world by nominal GDP and the third largest by purchasing power parity (PPP). [ 1 ] The country is one of the G-20 major economies and a member of BRICS . On a per capita income basis, India ranked 140th by nominal GDP and 129th by GDP (PPP) in 2011, according to the IMF . [ 14 ] India is the nineteenth largest exporter and tenth largest importer in the world. Economic growth rate slowed to around 5.3% for the 2012–13 fiscal year. [ 15 ] The independence-era Indian economy (from 1947 to 1991) was based on a mixed economy combining features of capitalism and socialism, resulting in an inward-looking, interventionist policies and import-substituting economy that failed to take advantage of the post-war expansion of trade. [ 16 ] This model contributed to widespread inefficiencies and corruption, and the failings of this system were due largely to its poor implementation. [ 16 ]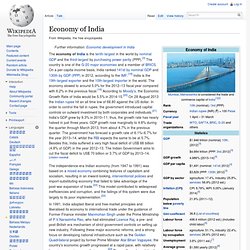 Economy of India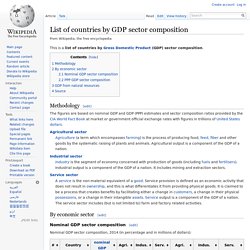 This is a list of countries by Gross Domestic Product (GDP) sector composition based on nominal GDP and GDP (PPP) estimates and sector composition ratios provided by the CIA World Fact Book at market or government official exchange rates with figures in trillions of United States dollars . Agricultural sector Agriculture (a term which encompasses farming ) is the process of producing food, feed , fiber and other goods by the systematic raising of plants and animals. Agricultural output is a component of the GDP of a nation. Industrial sector Industry is the segment of economy concerned with production of goods (including fuels and fertilisers ).
List of countries by GDP sector composition
Top 15 Manufacturing Countries in 2009 at Curious Cat Investing and Economics Blog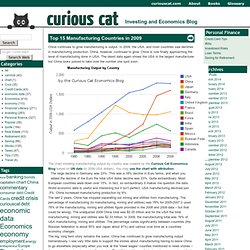 China continues to grow manufacturing is output. In 2009, the USA, and most countries saw declines in manufacturing production. China, however, continued to grow. China is now finally approaching the level of manufacturing done in USA. The latest data again shows the USA is the largest manufacturer but China looks poised to take over the number one spot soon. The chart showing manufacturing output by country was created by the Curious Cat Economics Blog based on UN data (in 2009 USA dollars).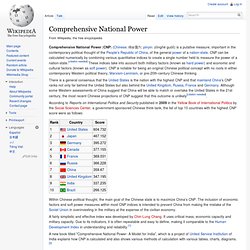 Comprehensive National Power ( CNP ) ( Chinese : 综合国力 ; pinyin : zōnghé guólì) is a putative measure, important in the contemporary political thought of the People's Republic of China , of the general power of a nation-state . CNP can be calculated numerically by combining various quantitative indices to create a single number held to measure the power of a nation-state. [ citation needed ] These indices take into account both military factors (known as hard power ) and economic and cultural factors (known as soft power ). CNP is notable for being an original Chinese political concept with no roots in either contemporary Western political theory, Marxism-Leninism , or pre-20th century Chinese thinking. There is a general consensus that the United States is the nation with the highest CNP and that mainland China 's CNP ranks not only far behind the United States but also behind the United Kingdom , Russia , France and Germany .
Comprehensive National Power
Country Rankings 2011 - Country comparisons, Economy, Geography, Climate, Natural Resources, Current Issues, International Agreements, Population, Social Statistics, Flags, Maps, Political System
This table shows the top 10 countries by GDP (Gross Domestic Product) expressed in billions of US$, for the years 2000, 2010, 2020, 2030, 2040 and 2050, listed by projected 2050 rank. SOURCE: Goldman Sachs * European Union GDP, which I calculated myself, is shown for comparison, but not ranked. Flags courtesy of ITA 's Flags of All Countries used with permission. http://www.photius.com/rankings/gdp_2050_projection.html Copyright © 2005 Photius Coutsoukis (All Rights Reserved). Revised 27-Jun-05
GDP Gross Domestic Product Projections 2000, 2010, 2020, 2030, 2040, geographic.org Courty Profiles - Economy, Geography, Climate, Natural Resources, Current Issues, International Agreements, Population, Social Statistics, Political System, Flags, Maps
What are the Top Manufacturing Countries?
The world's top manufacturing country is the United States, and this has been the case since before World War II. In 2007, the United States' manufacturing output was $1.831 trillion US Dollars (USD). This is about 12% of the USA's entire gross domestic product ( GDP ), or $12,206 USD for every person in the 150 million-strong labor force . Still, the USA's output per capita is not the world's greatest — that honor goes to Japan.
GNI per capita in 2009 : China (3,650 $) Higher GNI per capita compared to China
Economy of the People's Republic of China
This article includes a list of China's historical gross domestic product (GDP) values , the market value of all final goods and services produced by a nation in a given year. The GDP dollar estimates presented here are either calculated at market or government official exchange rates (nominal), or derived from purchasing power parity (PPP) calculations. This article also includes historical GDP growth . In 1985, the State Council of China ( SCC ) approved to establish a SNA (System of National Accounting), use the GDP to measure the national economy. China started the study of theoretical foundation, guiding, and accounting model etc., for establishing a new system of national economic accounting. In 1986, as the first citizen of the People's Republic of China to receive a Ph.D. in economics from an overseas country, Dr.
Historical GDP of the People's Republic of China
This article includes three lists of countries of the world sorted by their gross domestic product (GDP) (the value of all final goods and services produced within a state in a given year). The GDP dollar estimates given on this page are derived from purchasing power parity (PPP) calculations. [ edit ] Background Using a PPP basis is arguably more useful when comparing generalized differences in total economic output between countries because PPP takes into account the relative costs and the inflation rates of the countries, rather than using just exchange rates which may distort the real differences in income. Economies do self-adjust to currency changes over time, and technology intensive and luxury goods, raw materials and energy prices are mostly unaffected by difference in currency (the latter more by subsidies), however this is taken into account by the price comparison surveys, such as the International Comparison Program, which are used as the basis for PPP calculations.
List of countries by GDP (PPP)
Manufacturing
Corporate governance, reforms, CEO/CFO certification, Sarbanes-Oxley, internal controls, compliance, risk services,
Global Benchmark Study - Supply Chain - Manufacturing - Trends - Reduce Cost - Innovation
New Directions in Manufacturing: Report of a Workshop
Welcome to Manufacturing News
Consistent Characteristics of Competitive Manufacturers