Technology
Check This Out: The New Coke 5!
On Christmas Eve, 1924, a group of industrialists held a secret meeting in Geneva, Switzerland. There was no official agenda and not a single man present would confirm the meeting ever took place. Yet, what transpired at that gathering would come to define the future of consumerism. The group became known as the Phoebus cartel, and their particular concern was the longevity of lightbulbs.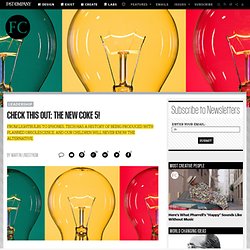 Editor's note: Contributor Dan Kaplan leads Product Marketing for Twilio and writes occasionally about the extrapolation of the present into the future. With the rise of Google+, the decrease in controversial posting activity by famous tech people and the allure of other shiny new things, the majority of tech press has turned the focus of their gazes away from Quora, my favorite startup of 2010. Well now that Apple has gone and integrated the most sophisticated piece of AI to ever to see the light of the consumer market into its iPhone 4S, I thought it was time to brush some dirt off of Quora's shoulder and shine a light on what the future of the company could hold.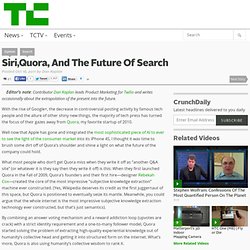 Siri,Quora, And The Future Of Search
Let's be honest: The cloud is a killer. Other than the microprocessor, I think we would be hard-pressed to find another technological innovation that has so effectively killed off its predecessors. For example — try to buy a piece of software packaged in an actual physical box. Sure, a handful of consumer-oriented PC applications are still sold in retail stores, but with enterprise applications — good luck.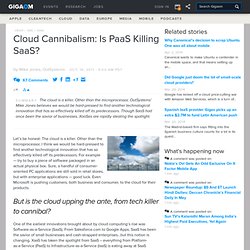 Cloud Cannibalism: Is PaaS Killing SaaS? — Cloud Computing News
Apple's iCloud icon: It's not as unique as you might think
Apple's iCloud platform has certainly gained some attention in the past few months, ever more so since the Cupertino-based company launched the service with its new iOS 5 firmware. Despite having one of the most recognisable 'Cloud' icons, Apple may not have actually created the design, in fact was could have been in circulation way before Apple utilised it, Scott Hanselman suggests. As the Microsoft employee demonstrates in his post, the iCloud icon, a design that borrows heavily from MobileMe, and has received a fair bit of publicity for its design and its apparent use of the Golden Ratio - leading Apple fans to create Photoshop tutorials demonstrating how to make their own version of the design. Hanselman further explains the origin of the icon and how he came to find it: Funny thing about the Golden Ratio, if you look for it, you'll find it everywhere. It's intuitive.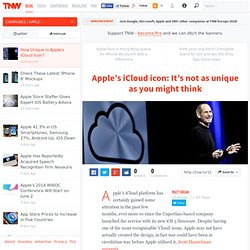 What to know what US agencies think of the iPad? That'll cost $113k.
16 October '11, 08:40am Follow Consumers, businesses and politicians are already aware of the usefulness of tablet devices; sales continue to increase, more and more apps are being developed to extend the feature-set of the devices and they are starting to be allowed in Congress to aid discussion in the some of the world's most powerful parliaments. In many countries, citizens are able to request information from their governments, simply by filing what is known as a Freedom Of Information Act request.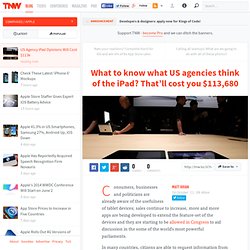 By now, you may have heard of the iPhone 4S. Understatement of the century aside, we've celebrated iPhone release day with a hefty collection of how-to features and app resources. This week's features roundup not only provides you with iPhone feedback galore, it re-examines brick phones too! In the same throwback vein, we also analyze the return of the real-time environment and the life and times of Steve Jobs.
61 New Digital Media Resources You May Have Missed