Ryan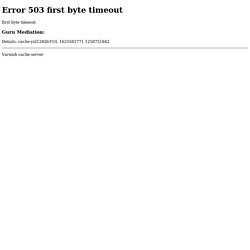 Reining In the 'Soft Costs' of Solar
Department of Energy The 22 winners of the Rooftop Solar Challenge will try to untangle local ordinances that impede solar installations by driving up the costs of permitting, financing and hooking up to the grid. The size of the circles reflect the size of the population that would be affected by each team's effort. Reducing the cost of installing solar power systems for homes and small commercial properties remains near the top of the Department of Energy's to-do list. Early this year, Steven Chu, the energy secretary, unveiled the department's SunShot Initiative , fashioned at least in spirit on the moon shot program, in which the Kennedy administration set out to put a man on the moon. With SunShot, the Department of Energy has set a goal of reducing the cost of solar installations by 75 percent by the end of the decade.
← Return to News SolarNexus Launches Beta Version of Software to Improve Solar Business Management Web application makes it cheaper, faster and more profitable to manufacture, sell and install solar systems. Designed specifically for the solar industry, the SolarNexus system understands and automates the workflows and intricacies of solar projects, eliminating inefficiencies and facilitating collaboration among project team members. Los Angeles, Calif.
SolarNexus Launches Beta Version of Software to Improve Solar Business Management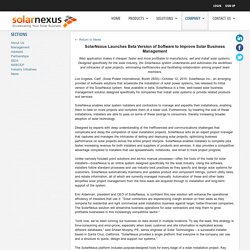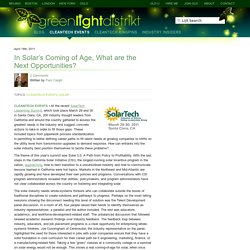 In Solar's Coming of Age, What are the Next Opportunities? | The Green Light Distrikt
CleanTech Events - At the recent SolarTech Leadership Summit , which took place March 29 and 30 in Santa Clara, CA, 200 industry thought leaders from California and around the country gathered to assess the greatest needs in the industry and suggest concrete actions to take in order to fill those gaps. These included topics from paperwork process standardization in permitting to better defining career paths to fill talent needs at growing companies to shifts on the utility level from transmission upgrades to demand response. How can entrants into the solar industry best position themselves to tackle these problems?
Solar Webinars | SEIA - Solar Energy Industries Association
Through educational seminars, webinars, networking events and business-to-business tradeshows, SEIA creates forums to connect solar professionals with their peers and with key industry leaders in order to expand their businesses, exchange ideas, and move the industry forward. We work closely with our vast network of solar experts and thought leaders to develop high quality programs that meet the needs of our diverse industry. From installers to manufacturers, and from small businesses to large companies, SEIA creates opportunities to grow your business. As one of SEIA's key member benefits, the webinar program provides both live eduational experiences and on-demand archives. To access the archived webinars or to register for an upcoming webinar, visit the . SEIA also provides in-person networking and educational events, ranging from Premiere events like Solar Power International to the more intimate Siting & Permitting Seminar.