Themes
Wordpress Themes
Free Wordpress Themes, Blogger Templates and Blog Skins
Free WordPress Themes - Professional WordPress Themes for Your S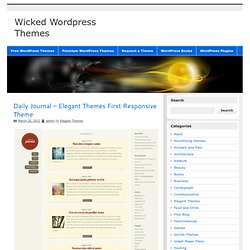 Daily Journal – Elegant Themes First Responsive Theme Due to the huge changes in technology, a large proportion of people are now using mobile devices such as Ipads and Smart Phones and with these changes need other changes in web technology and how websites are displayed. A new feature that is now being integrated into WordPress Themes is a responsive display, What happens when a theme is responsive is it adjusts to whatever device is looking at your blog, so if someone using an Ipad wants to view your blog, the theme will 'respond' to that device and now finally Elegant Themes have created there first theme that does this and plenty more. After posting information about wordpress themes for a while now I've noticed a large amount of business style themes being created in a massive scale and personal themes being ignored.
Best Wordpress Themes | Download Free Premium High Quality Wordp
Free Wordpress Themes and Skins, Custom WP Templates
Wordpress Themes | Free Wordpress Themes | Wordpress Templates |
Welcome to one of the largest website of Wordpress Themes. Here you will be offered hundreds of new and attractive themes of high quality. Feel free to choose an appealing theme either for your personal or commercial use. All the themes were sorted and tested manually.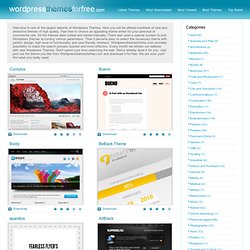 Latest Themes Best Themes Most Downloaded Most Viewed Top Rated Good free Wordpress themes and Wordpress Templates are always in great demand. Nowadays even among abundant choice of blog engines, Wordpress still remains the most widely used and the most popular blog engine.
Free Wordpress Themes | Best Wordpress Themes | Free Wordpress T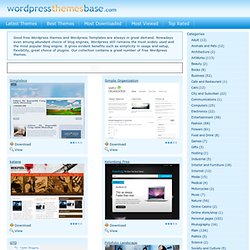 Download free WordPress themes - Free WP Themes
Welcome to ! After getting my other site up and running, I decided to go ahead and convert some of my free CSS Templates to WordPress themes, all of which: Are 100% free for personal or commercial use, since they're released under the terms of the Creative Commons Attribution 3.0 Unported License (with all source code split-licensed under the GPL ). You don't have to pay me (or anyone else) anything to use them, regardless of what you want to use them for. Are tableless and fully standards compliant. Only use royalty-free, public domain stock photos from PDPhoto.org .