Yemen
Yemen 'abandons' human rights - Focus. Yemeni authorities have carried out grave human rights abuses as part of an internationally-backed crackdown on a range of security threats facing the country, rights groups have said.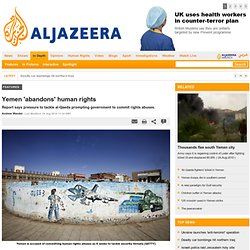 In a report issued on Wednesday, Amnesty International says that growing US concern over al-Qaeda's presence in Yemen, combined with domestic challenges to the legitimacy of the government, has prompted a marked deterioration in the human rights situation in the impoverished country. The group says that over the past year, the Yemeni government has carried out vicious military campaigns, arbitrary arrests and extrajudicial killings as it faces international pressure to tackle al-Qaeda-affiliated groups, and seeks to quell a growing secessionist movement in the south while fighting periodic battles with Houthi rebels in the north. Country Profile: Yemen - Yemen.
Yemen president not to extend term - Middle East. Ali Abdullah Saleh, the Yemeni president, has backed down on a plan to rule his impoverished Arab country for life after mass protests demanding his ouster.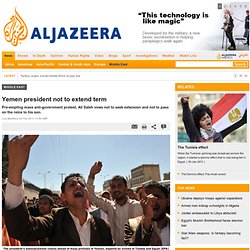 In an announcement on Wednesday, Saleh said he plans for elections in April had been scrapped along with constitutional amendments that would have seen him become president for life. "I will not extend my mandate and I am against hereditary rule," he said. Yemen leader 'willing to step down' - Middle East. Yemen's president, Ali Abdullah Saleh, has offered to stand down - but only to hand over power "to capable, responsible hands," he says.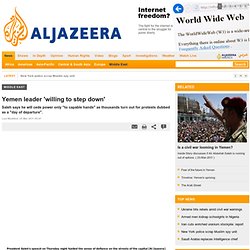 The longtime leader addressed crowds shown on state TV and said he was ready to meet with protesters, as tens of thousands gathered in a "day of departure" rally. But he also said those demanding his resignation had been influenced by the Houthis - a powerful armed clan demanding greater autonomy in their region of the country - and drug dealers. On Thursday night, opposition groups rejected Saleh's offer to quit after a presidential election at the end of the year, stepping up efforts to remove him from power. Yassin Noman, head of Yemen's opposition coalition, dismissed Saleh's earlier offer as "empty words" and a spokesman said the umbrella coalition would not respond. "No dialogue and no initiatives for this dead regime," opposition spokesman Mohammed al-Sabry said on Thursday. Is it 'game over' in Yemen? Since snipers killed 52 Yemeni protesters a little over a week ago, events in the country have been progressing at a rapid rate.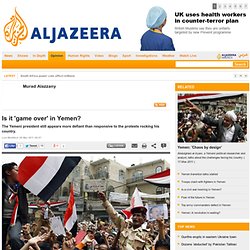 The shootings after Friday prayers drew nationwide condemnation and triggered a series of high profile defections – all of which served to increase the pressure on Ali Abdullah Saleh, the president. But the most dramatic development in the unfolding Yemeni saga has been the defection of Major General Ali Mohsin, the head of the northwestern military zone and the first armoured division.
Yemen: A tale of two protests - People & Power. The recent uprisings across the Arab world have much in common: hatred of dictators, corruption and inequality, and young activists yearning for human rights and democracy.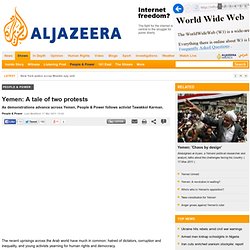 Look more closely, though and you will see the disparities and the protests in Yemen are a case in point. For weeks activists there have been calling for political reform and for Ali Abdullah Saleh, Yemen's president, to step down. The regime, in power for more than 30 years, has responded with a typically heavy-handed crackdown and then apologies for the deaths that have occurred. Yemen: 'Chaos by design' - People & Power. Abdulghani al-Iryani is a Yemeni political researcher and analyst.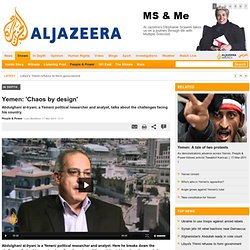 Here he breaks down the challenges facing his country, describes the nature of the uprising taking place there and shares his views on the prospects for change. Yemen is probably the hardest [state in the region] in terms of economic challenges and development challenges. The people of Yemen are the poorest in the region. The state in Yemen is by far the weakest, compared to Libya in the sense of [the] absence of a real state, real institutions.
I think that in a way, the grievances are similar, whether it is Egypt or Yemen or Libya or Tunisia, in that people are disempowered; people are marginalised. Tragedy strikes amid Yemen lawlessness - Middle East. Scores killed in Yemen arms factory blasts - Middle East. A series of blasts at an ammunition factory has left at least 100 people dead and injured dozens more near the southern Yemeni town of Jaar, a day after the plant was looted by masked gunmen.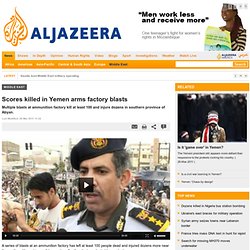 Funerals are expected to take place on Tuesday for the victims of Monday's blasts which witnesses said were possibly triggered by a cigarette, causing a massive fire in the factory, located in the Khanfar area near Jaar city. The plant produces ammunition and Kalashnikov rifles. Local residents told Al Jazeera that more than 100 men, women and children were looting the left-overs in the factory when the first explosion occurred. "This accident is a true catastrophe, the first of its kind in Abyan," a doctor at the state-run hospital said.
---