Crafting
If you are looking for a template for boxes, cards, wrapping packaging, tags or just for something fun, look no further. Below are my very favourite templates Some are orginial, but most are collected from all over the Web. Check them out, they are great for inspiration, and to save you money on buying box templates for gifts!!
PaperScrapz
Last week my team and I had the opportunity to go on a fun outing to Salt Lake City's Art & Soup. Local artists and restaurants gathered to support Community Nursing Services' (CNS's) Charitable Care Program by donating a portion of the artwork sold. This year, the Salt Palace Convention Center's walls were lined with booths—24 to be exact—which were issuing a variety of soup samples. Our team had fun tasting the samples. Some of our favorites included: lobster bisque, ginger spring pea soup, and squash soup with jalapeño spice. (Yum!)
Stampin' Up!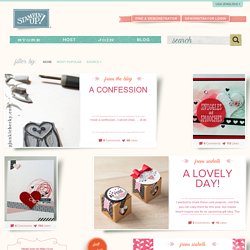 Hi Stampers, Are you ready for this week's ColorLab color Experiment? We're celebrating the New In Colors with several weeks of New Color-palooza!! Over the next few weeks we'll be celebrating the New In Colors by featuring each of the colors in a Color Combo Challenge! We know these colors are new and still making their way into some of your hands so we'll keep each challenge open for 2 weeks to give you time to play with the new colors! Our Design Team Chemist have already conducted a few experiments to help inspire you.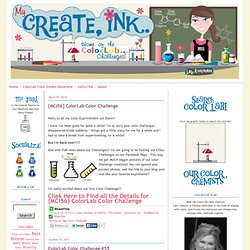 Create, Ink!