RFC
FTP Security Extension (2228)_e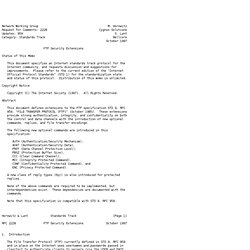 Network Working Group M. Horowitz Request for Comments: 2228 Cygnus Solutions Updates: 959 S. Lunt Category: Standards Track Bellcore October 1997 FTP Security Extensions Status of this Memo This document specifies an Internet standards track protocol for the Internet community, and requests discussion and suggestions for improvements. Please refer to the current edition of the "Internet Official Protocol Standards" (STD 1) for the standardization state and status of this protocol. Distribution of this memo is unlimited. Copyright Notice Copyright (C) The Internet Society (1997).
TACACS (1492)
Site Security Handbook (1244)
"Remote Authentication Dial In User Service (RADIUS)", June 2000 Canonical URL: http://www.rfc-editor.org/rfc/rfc2865.txt This document is also available in this non-normative format: PDF . Status:
Radius (2865)_e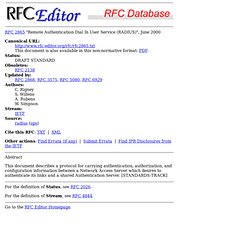 Anti-Spam (2505)
CHAP (1994)_e
Statut de ce document Ce document spécifie un protocole standard d'Internet pour la communauté Internet, et ne sera éprouvé qu'après plusieurs discussions et suggestions. Merci de vous référer à l'édition courante du " Internet Official Protocol Standards " (STD1) pour l'état de standardisation et le statut de ce protocole. La distribution de ce document est illimitée.
CHAP (1994)_f