Joomla
Essential Joomla 1.5 Extensions
With Joomla 1.5 coming out of beta at the end of January, the new version of Joomla has already got some great extensions. We thought it would be helpful to share what we consider to be some of the essential extensions for Joomla 1.5. We have chosen the extensions we particularly like and are using on some of the websites we have up and running on Joomla 1.5. In this post will be mentioning extensions to help SEO, customise blogs, display images and manage communities. Search engine optimisation (SEO) extensions for Joomla 1.5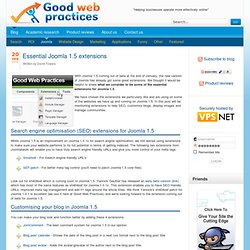 Support Joomla ®, guides et aide Joomla par Antadis
Paramètres de page liés à un élément de menu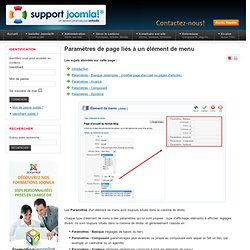 Les sujets abordés sur cette page : Les Paramètres d'un élément de menu sont toujours situés dans la colonne de droite. Chaque type d'élément de menu a des paramètres qui lui sont propres : type d'affichage, éléments à afficher, réglages divers. Ils sont toujours situés dans la colonne de droite, et généralement classés en : Paramètres - Basique (réglages de bases du lien)Paramètres - Composant (paramétrages plus avancés ou propre au composant vers lequel on fait un lien, par exemple un calendrier ou un agenda)Paramètres - Système (réglages génériques communs à tous les éléments de menu) On trouve parfois des Paramètres Avancés, notamment dans le cas des pages d'articles.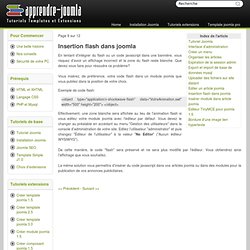 En tentant d'intégrer du flash ou un code javascript dans une bannière, vous risquez d'avoir un affichage incorrect et la zone du flash reste blanche. Que devez vous faire pour résoudre ce problème? Vous insérez, de préférence, votre code flash dans un module joomla que vous publiez dans la position de votre choix. Exemple de code flash: Effectivement, une zone blanche sera affichée au lieu de l'animation flash si vous editez votre module joomla avec l'éditeur par défaut.
insertion flash dans joomla
Documentation générale
Using the Page Class Suffix in Template Code
Sometimes web designers need to access a page class suffix from directly within a template. A common reason to do this is to assign unique styles to individual pages linked from a menu (e.g. to change the dominant color on that page). By default Joomla applies the page class suffixes only to limited areas of a page, which often doesn't offer enough flexibility. However, by making some simple changes to your template you can take advantage of the cascading nature of stylesheets to apply unique styles to any element on a page. Load Suffix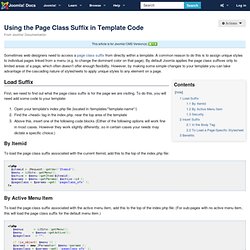 Ce portail, dédié à la présentation de Joomla!, s'adresse aux futurs utilisateurs de ce système. Son but est d'offrir une présentation conviviale sur son fonctionnement et son utilisation. La compréhension de son contenu ne nécessite aucune connaissance informatique particulière ! Joomla!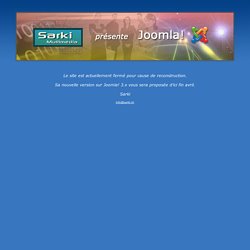 Here's how to get a real rollover image menu using on the Cascading Style Sheet (CSS). Displaying images for menu items is standard in newer Joomla releases. No code changes to PHP files are needed. In this example we'll edit the horizontal menu on top of the rhuk_milkyway template. Here are the general style rules for this menu:
Image only menu items with rollover effect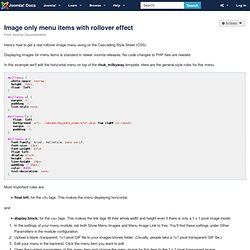 Test Extensions II - Récapitulatif des tests
Hi ! I seem to be the same problems with my xmap. I just installed the new 1.1 version for joomla 1.5 and all worked fine until wanting to use it. Like some users here, I just get a "loading" popup (right hand side) when changing some parametters, and nothing happens? I was wondering if the server permissions might have to do something with this. But even if I run a chmod 777 on the xmap component folders(for both admin and users) I still can't get it to run correctly?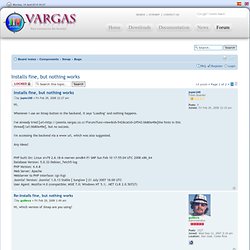 View topic - Installs fine, but nothing works - Forum
Tutoriel Template. part 1
Joomla Ressources :: Extensions Joomla - Modules et composants - Tutoriaux - Portail CMS Joomlal - Actualités de Joomla - Joomla Francophonie
swMenuPro.com - Advanced Menu Systems for Joomla and Mambo - Home
tutoriels.papounet.fr
Joomla 1.5 Template Tutorial | joomla-tutorials
Creating a pure CSS layout Joomla 1.5 template In this chapter, we'll go through the steps of creating a Joomla template . Specifically, we will create a template that uses Cascading Style Sheets (CSS) to produce a layout without use of tables. This is a desirable goal because it means that the template code is easier to validate to World Wide Web Consortium (W3C) standards.
Spécialiste Joomla - Création de site Internet Joomla - Professionnel Joomla - Référencement Joomla - Formation Joomla - Web Design Nîmes