Thoughts
IMS GLC Public Forums and Resources Forums - An unnoticed potential problem in the making: The requirement for SCORM in the newly announced Trade Adjustment Assistance Community College and Career Training grants program (TAACCCT).
FWCY10csur.pdf (application/pdf-object)
2009-ldow-hartig.pdf (application/pdf-object)
ns
Project Detail - ERIM
EIA-2009-039-LIS.pdf (application/pdf-object)
Als je geen cookies accepteert is het niet mogelijk om Computable.nl te bezoeken. Op deze pagina vind je meer informatie over wat cookies precies zijn, welke cookies door Computable worden gebruikt en hoe je invloed op cookies kunt uitoefenen. Wat zijn cookies?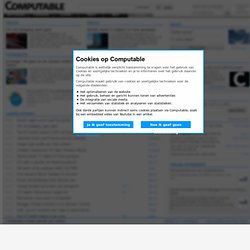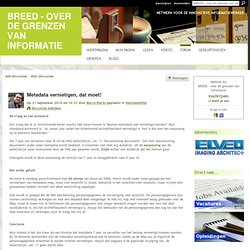 De vraag en het antwoord Een vraag die ik al verschillende keren voorbij heb horen komen is "Moeten metadata ook vernietigd worden?" Mijn standaard antwoord is: "Ja, zeven jaar nadat het bijbehorend archiefbescheid vernietigd is. Het is dus niet van toepassing op te bewaren bescheiden." Die 7 jaar (na vervallen) haal ik uit de VNG-Selectielijst, cat. 11 "Documenting documents". Dat met "documenting documents" onder meer metadata wordt bedoeld, is misschien niet heel erg duidelijk.
Metadata vernietigen, dat moet! - BREED - over de grenzen van informatie
Scotland Forum: Do we need to get Stalinist about standards? at SCA Blog
The latest Home Nations Forum in Edinburgh focused on Standards. Alastair Dunning from JISC Digitisation gave a talk which illustrated how standards need to be thought of as existing in an organic, shifting environment and why the ramifications of choosing any standards need to be thought through. A lively discussion followed which continued through into the hour-long round table session, facilitiated by Alastair and Brian Kelly of UKOLN , which tackled some of the issues in more depth. Read on for Alastair's presentation, coverage of the further discussion, and Brian Kelly's final roundup, plus details of the other presentations from the day. The Standards Dilemma: Alastair Dunning, JISC Digitisation
Since I gave a presentation on this topic at the OFE Conference in Geneva at the end of February I have meant to post something about it here. As some of us stated before, if anything, the OOXML debacle has achieved one thing: raising awareness for the need for higher quality standards and standards development processes. Introduction
A Standards Quality Case Study: W3C « Arnaud's Open blog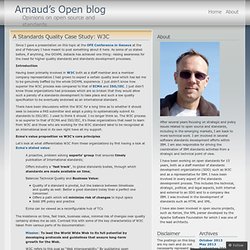 Validation