Roughing It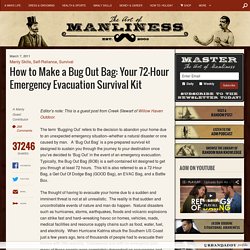 Editor's note: This is a guest post from Creek Stewart of Willow Haven Outdoor. The term 'Bugging Out' refers to the decision to abandon your home due to an unexpected emergency situation–whether a natural disaster or one caused by man. A 'Bug Out Bag' is a pre-prepared survival kit designed to sustain you through the journey to your destination once you've decided to 'Bug Out' in the event of an emergency evacuation.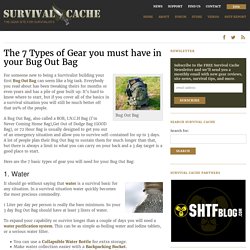 Bug Out Bag For someone new to being a Survivalist building your first Bug Out Bag can seem like a big task. Everybody you read about has been tweaking theirs for months or even years and has a pile of gear built up. It's hard to know where to start, but if you cover all of the basics in a survival situation you will still be much better off that 99% of the people. A Bug Out Bag, (also called a BOB, Get Out of Dodge Bag, GOOD, or 72 Hour Bag) is usually designed to get you out of an emergency situation and allow you to survive self-contained for up to 3 days. A lot of people plan their Bug Out Bag to sustain them for much longer than that, but there is always a limit to what you can carry on your back and a 3 day target is a good place to start.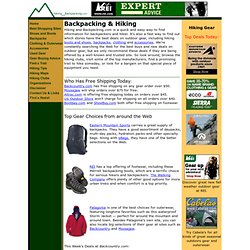 Backpacking & Hiking Hiking and Backpacking.com is a quick and easy way to find information for backpackers and hiker. It's also a fast way to find out which stores have the best deals on outdoor gear, including hiking boots and shoes, backpacks, clothing and accessories. We're constantly searching the Web for the best buys and new deals on outdoor gear, but we only recommend these deals if they are being offered by a well-known and trusted site. So look around, browse the hiking clubs, visit some of the top manufacturers, find a promising trail to hike someday, or look for a bargain on that special piece of equipment you need. Who Has Free Shipping Today: Backcountry.com has free shipping on any gear order over $50. Moosejaw will ship orders over $75 for free.
Hiking and Backpacking - Hiking and Backpacking.com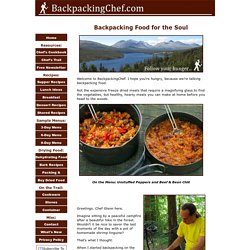 Pull up a stump. We're talking backpacking food. Not the expensive freeze dried meals that require a magnifying glass to find the vegetables, but healthy, hearty meals made at home before you head to the woods. On the Menu: Unstuffed Peppers and Beef & Bean Chili Greetings.