Social google
Petite méthode des prises de notes collaboratives « Site compagnon des cours de François Jourde. Je pratique depuis 2009 la prise de note coopérative du cours de philosophie.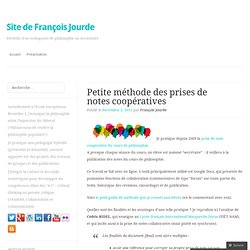 A presque chaque séance du cours, un élève est nommé "secrétaire" : il veillera à la publication des notes du cours de philosophie. Ce travail se fait avec en ligne. L'outil principalement utilisé est Google Docs, qui présente de puissantes fonctions de collaboration (commentaires de type "forum" sur toute partie du texte, historique des révisions, clavardage) et de publication. Mozilla renouvelle son accord avec Google pour trois ans. University Guide to Going Google. Google Aps for Education. Have You Tried Out Google+? Ppt Presentation. Have you tried out Google+?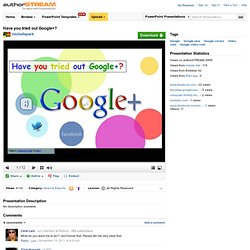 : *Image by 62290185@N08 via Flickr Have you tried out Google + ? Slide 2: *Image via Bing It's feature Stream is much like the Facebook News Feed, allowing users to share videos, photos, links or their location with friends.
---