Navigation
Découvrez 5 sites avec une navigation et un concept original #38 - Webdesign-inspiration. Pour bien débuter cette nouvelle semaine découvrez une série de sites qui font preuve de qualité et d'originalité que ça soit dans leur structure ou leur concept.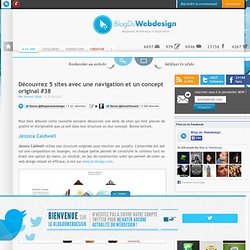 Bonne lecture. Jessica Caldwell Jessica Caldwell utilise une structure originale pour montrer ses projets. L'ensemble est axé sur une composition en losanges, où chaque partie permet de construire le contenu tout en étant une option du menu. Le résultat, un jeu de construction subti qui permet de créer un web design simple et efficace, à voir sur www.jtcdesign.com.
Soulwire » Experiments in Code. 30 Websites Using JavaScript Sliders. JavaScript sliders, jQuery in particular, are a very commonly used element in web design.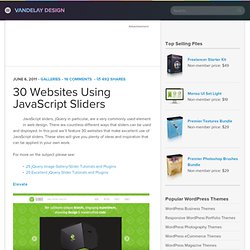 There are countless different ways that sliders can be used and displayed. In this post we'll feature 30 websites that make excellent use of JavaScript sliders. Graphic Design Bureau. Showcase Of Beautiful Vertical Navigation Designs - Smashing Magazine. Advertisement Go to any website and you're guaranteed to find one thing: a navigation menu.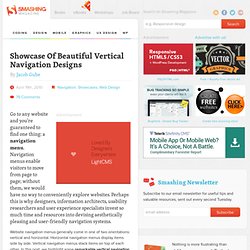 Navigation menus enable visitors to move from page to page; without them, we would have no way to conveniently explore websites. Perhaps this is why designers, information architects, usability researchers and user experience specialists invest so much time and resources into devising aesthetically pleasing and user-friendly navigation systems. Website navigation menus generally come in one of two orientations: vertical and horizontal. 25 Modern Navigation Solutions: Unique Designs & Awesome Effects. Navigation is an important element of web design, and of any website.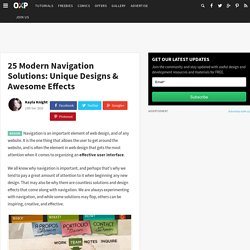 It is the one thing that allows the user to get around the website, and is often the element in web design that gets the most attention when it comes to organizing an effective user interface. We all know why navigation is important, and perhaps that's why we tend to pay a great amount of attention to it when beginning any new design. That may also be why there are countless solutions and design effects that come along with navigation. We are always experimenting with navigation, and while some solutions may flop, others can be inspiring, creative, and effective. 25 Modern Navigation Solutions. 30 Inspiring Website Navigation Menus. The navigation and menu system is one of the most important aspects of a website.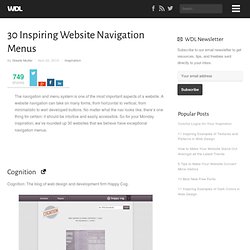 A website navigation can take on many forms, from horizontal to vertical, from minimalistic to well developed buttons. No matter what the nav looks like, there's one thing for certain: it should be intuitive and easily accessible. So for your Monday inspiration, we've rounded up 30 websites that we believe have exceptional navigation menus.
Cognition. Tendance du webdesign : navigation surdimensionnée » WebdesignerTrends – Ressources utiles pour le webdesign, actus du web, sélection de sites et de tutoriels. Graphic design & art direction. Découvrez 55 sites avec une navigation et un concept original ! - Blog Du Webdesign Magazine. Inspiration. 30+ Inspiring Website Navigation Menus. For surfers, website navigation menu plays a crucial part in making the web experience fun and, of course, easy… It actually influences the viewer's preference for a particular website if he enjoyed surfing through and browsing the site or blog.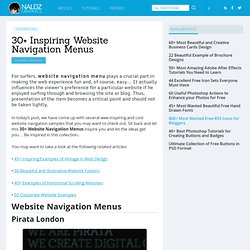 Thus, presentation of the item becomes a critical point and should not be taken lightly. In today's post, we have come up with several awe-inspiring and cool website navigation samples that you may want to check out. Sit back and let this 30+ Website Navigation Menus inspire you and let the ideas get you… Be inspired in this collection.. You may want to take a look at the following related articles: • 45+ Inspiring Examples of Vintage in Web Design. 50 Examples of Drop-Down Navigation Menus in Web Designs. Having a clean and well-structured website navigation is key in designing an effective user interface.
Drop-down menus are great for sites that have multiple levels of content hierarchy. The typical design pattern of a drop-down menu is that when a user hovers over the parent navigation item, a submenu of navigation items appears. In this collection are many different types of drop-down menus used in websites all over the web for your navigation design inspiration. Here are some related collections regarding site navigation that you may also be interested in: 1. 30 Examples of Excellent Website Navigation. A website's navigation allows visitors to get from page to page and discover content.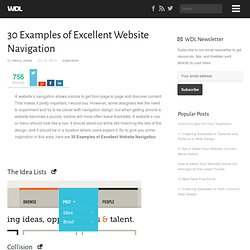 That makes it pretty important, I would say. However, some designers feel the need to experiment and try to be clever with navigation design, but when getting around a website becomes a puzzle, visitors will more often leave frustrated. A website's nav or menu should look like a nav. Website Navigation Menu Toolbox - Web Design Blog – DesignM.ag. Get the FlatPix UI Kit for only $7 - Learn More or Buy Now When designing a website, one of the most important elements is the navigation.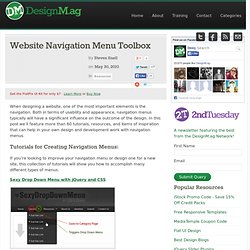 Both in terms of usability and appearance, navigation menus typically will have a significant influence on the outcome of the design.
---