Html5
Video
Forms. Book. 55 Excellent Examples of Websites Using HTML5. 1860 shares 10 HTML5 Demos to Make You Forget About Flash You've probably been hearing a lot lately about how Flash is a dying technology and how it'll soon be replaced by HTML5.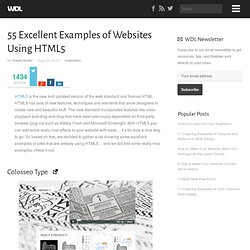 7 Useful Resources to Help You Learn HTML5. Even though HTML5 is relatively new and it's not supported yet by all major browsers, it is being used now by a lot of web designers and developers. Without a doubt, HTML5 is going to play a big part in the way we develop on the web, for many years to come. As I just mentioned, many people are using it now, but there are also many of you out there that hasn't touched it yet. Now is a good time to start learning it. So, in order to give you a helping hand with that task, we've rounded up 7 Useful Resources to Help you Learn HTML5. A Web Developer's Guide to HTML 5.
HTML5 for Web Designers: Book Review. HTML5 is all the buzz right now: some people think you need to wait until it's "complete" to use it, while others are pushing the envelope and using what the browsers are supporting right now.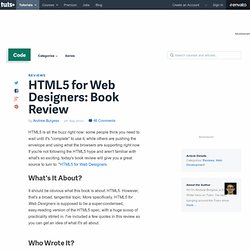 If you're not following the HTML5 hype and aren't familiar with what's so exciting, today's book review will give you a great source to turn to: "HTML5 for Web Designers. What's It About? Le petit journal de HTML5. HTML5's placeholder Attribute Example. 25 HTML5 Features, Tips, and Techniques you Must Know. Twice a month, we revisit some of our readers' favorite posts from throughout the history of Nettuts+.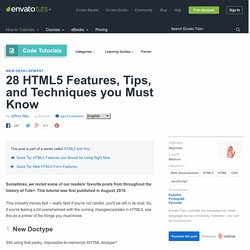 This tutorial was first published in August, 2010. This industry moves fast -- really fast! The Only HTML5 Resources You Need for Getting Up to Speed. There's a lot of buzz going around about HTML5.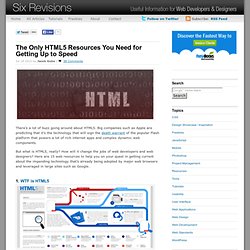 Big companies such as Apple are predicting that it's the technology that will sign the death warrant of the popular Flash platform that powers a lot of rich internet apps and complex dynamic web components. But what is HTML5, really? How will it change the jobs of web developers and web designers? Here are 15 web resources to help you on your quest in getting current about the impending technology that's already being adopted by major web browsers and leveraged in large sites such as Google. 1. HTML5Rocks - Home.
---