How to Make
How to Patch a Hole in Your Drywall. Editors note: This is a guest post by Ethan Hagan from One Project Closer.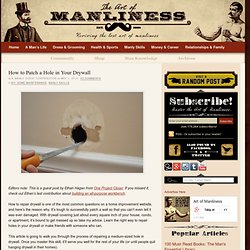 If you missed it, check out Ethan's last contribution about building an all-purpose workbench. How to repair drywall is one of the most common questions on a home improvement website, and here's the reason why. One Project Closer - Home Improvement Blog Featuring DIY Projects, Tool & Material Reviews, and More! How to Make an All-Purpose Work Bench. Editors note: This is a guest post by Ethan Hagan from One Project Closer.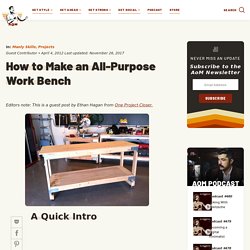 A Quick Intro In the video, I share that you're about to learn how to make "the only workbench you'll ever need." That's a bit of an overstatement, especially for woodworking enthusiasts who will need features like an integrated vice and bench dogs. How to Build a Small Game Survival Snare. Editor's note: This is a guest post from Creek Stewart of Willow Haven Outdoor.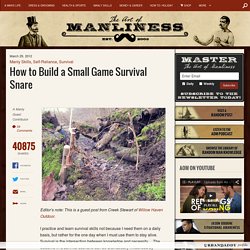 I practice and learn survival skills not because I need them on a daily basis, but rather for the one day when I must use them to stay alive. Survival is the intersection between knowledge and necessity. The outcome in a survival scenario can be dramatically influenced by practicing survival skills before you need them. One such skill that requires thoughtful practice is How to Build a Small Game Survival Snare. WillowHavenOutdoor.com: School for Survival, Preparedness & Bushcraft. How To Make a Wire Small Game Snare For Your Survival Kit | As you may already know, Artofmanliness.com just published an article that I wrote titled .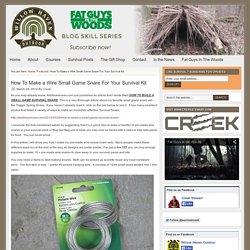 This is a very thorough article about my favorite small game snare set – the Trigger Spring Snare. If you haven't already read it, click on the link below to see it. How to Tie a Shemagh - Military Style | The Shemagh (pronounced "Schmog")(also called a Keffiyeh and Ghutrah) originated in the Middle East.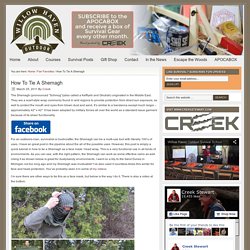 They are a scarf-style wrap commonly found in arid regions to provide protection from direct sun exposure, as well to protect the mouth and eyes from blown dust and sand. It's similar to a bandanna except much larger – approximately 42″ x 42″. 4 Reasons To Add A Pellet Air Gun To Your Survival Arsenal | You read the heading correct – I said Pellet Gun.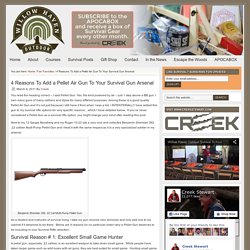 Yes, the kind powered by air – just 1 step above a BB gun. I own many guns of many calibers and styles for many different purposes. Among these is a good quality Pellet Air Gun and it's not just because I still have it from when I was a kid. I INTENTIONALLY have added this gun to my survival rifle options for very specific reasons…which I have detailed below. If you've never considered a Pellet Gun as a survival rifle option, you might change your mind after reading this post. Yes, that's a Tampon in my mouth : The Swiss Army Survival Tampon : 7 Survival Uses | Do me a favor for the next 5 minutes.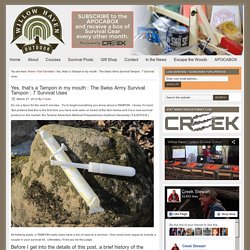 Try to forget everything you know about a TAMPON. I know, it's hard. But pretend that this is the first time you have ever seen or heard of the item below and it is a new survival product on the market: the Tactical Adventure Medical Preparedness Outdoors Necessity (T.A.M.P.O.N.) All kidding aside, a TAMPON really does have a ton of uses to a survivor. One could even argue to include a couple in your survival kit. DIY Weekend Project: How to Make a Slingshot. Imagine the idealized rough and tumble boy depicted in literature, movies, and TV shows.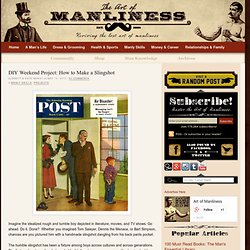 Go ahead. Do it. How to Make a Bug Out Bag. Editor's note: This is a guest post from Creek Stewart of Willow Haven Outdoor.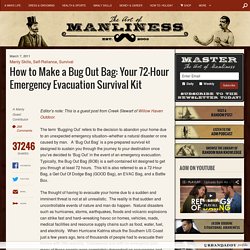 The term 'Bugging Out' refers to the decision to abandon your home due to an unexpected emergency situation–whether a natural disaster or one caused by man. A 'Bug Out Bag' is a pre-prepared survival kit designed to sustain you through the journey to your destination once you've decided to 'Bug Out' in the event of an emergency evacuation. Typically, the Bug Out Bag (BOB) is a self-contained kit designed to get you through at least 72 hours.
---