Educational
Get flash to fully experience Pearltrees
Vitamin D Expert Fired for Recommending Sunshine
( Ezra Taft Benson. Conference Report, April 1967 ) Nearly two thousand years ago a perfect man walked the earth: Jesus the Christ. He was the son of a heavenly father and an earthly mother. He is the God of this world, under the Father.
Observe good faith and justice towards all Nations; cultivate peace and harmony with all. Religion and Morality enjoin this conduct; and can it be, that good policy does not equally enjoin it? It will be worthy of a free, enlightened, and, at no distant period, a great Nation, to give to mankind the magnanimous and too novel example of a people always guided by an exalted justice and benevolence. . . . Can it be that Providence has not connected the permanent felicity of a Nation with its Virtue?" President George Washington, Farewell Address, September 17, 1796
W. Cleon Skousen. 101 Constitutional Questions To Ask Candidates. 1980. Because so many millions of Americans finally realize that something is seriously wrong with the way the government is handling our affairs, people are continually asking: "Do you think there is still time to turn it around?" When you ask, "Still time before what?" they usually reply: "Before total disaster overtakes." For those who wonder about such things the answer is this: "Yes, there is still time, but not much."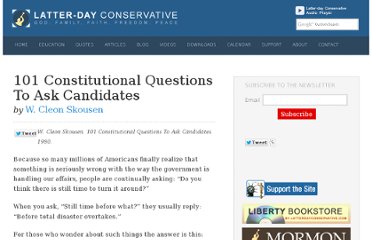 Dear, Addressed persons I here present you with a Notice of Understanding and Intent. I am sending this letter out as a courtesy in order to avoid any further confusion or potential conflict. I am now expanding the reach of my discourse in order to maintain my honor and ensure maximum clarity between myself and all agents of government. After receiving this letter, please expect a Notice of Understanding and Claim of Right in order to ensure maximum clarity amongst all parties.As a peaceful man desiring to avoid conflict and live lawfully with maximum freedom, I have recently been studying the history of the united states along with its legal system and have come to some very interesting conclusions.