Technology Resources
Classroom Tech Learning, Education, PC, Mac, iPad, Bloom's Taxonomy – Techlearning.com. TeachTechPSD. Published Events - Desire2Learn Capture Portal. Flipped Learning. Web-Based Classroom and Audience Response System. Learning in Hand #25: QR Codes. Learning in Hand Podcast Episode #25: QR Codes is all about those two-dimensional bar codes that are popping up everywhere.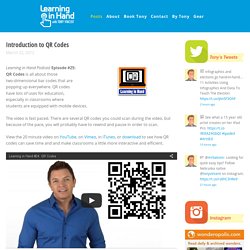 QR codes have lots of uses for education, especially in classrooms where students are equipped with mobile devices. The video is fast paced. There are several QR codes you could scan during the video, but because of the pace, you will probably have to rewind and pause in order to scan. View the 20 minute video on YouTube, on Vimeo, in iTunes, or download to see how QR codes can save time and and make classrooms a little more interactive and efficient. Transcript. Collaborize Classroom | Online Education Technology for Teachers and Students.
Edshelf. iPad Resources. Kathy Schrock's Guide to Everything - Home Page. Infographics. Concept Mapping. QR Codes in the Classroom. Glogster EDU - 21st century multimedia tool for educators, teachers and students | Text, Images, Music and Video.
---