Technology Resources
January 15, 2014 Great potential to build background knowledge More » January 15, 2014 Martin Luther King Day is celebrated on the third Monday in January, so you can... More » January 14, 2014 This activity ask the students to plan what should be in a survival pack that wo... More » January 14, 2014 By: Tech & Learning Staff What is the Awards of Excellence program?The Awards of Excellence program has be... More » January 14, 2014 By: The Lightspeed Systems Foundation announces the 2013 Amazing Grant recipients. More » January 14, 2014 By: Kevin Hogan The issue surrounding tablets in the classroom is still a popular topic on the ...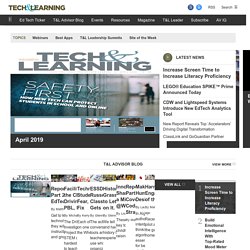 #edtech #web20 #edchat #clickers #elearning Using "clickers" or electronic response systems can be a great way to gather data and give formative assessments to students. Until recently, schools wanting to use response systems needed to purchase expensive software and equipment. Education software companies like Promethean, CPS, and SMART all manufacture "clicker" software and hardware. Clicker software and hardware, in the traditional sense, can now be replaced by technology that may already exist in the classroom.
TeachTechPSD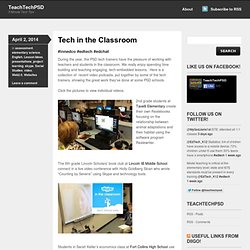 Published Events - Desire2Learn Capture Portal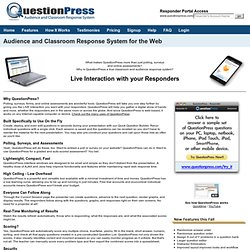 Why QuestionPress? Built Specifically to Use On the Fly Create, deploy, and even edit questions in seconds during your presentation with our Quick Question Builder.
Web-Based Classroom and Audience Response System
Learning in Hand Podcast Episode #25: QR Codes is all about those two-dimensional bar codes that are popping up everywhere. QR codes have lots of uses for education, especially in classrooms where students are equipped with mobile devices. The video is fast paced. There are several QR codes you could scan during the video, but because of the pace, you will probably have to rewind and pause in order to scan. View the 20 minute video on YouTube, on Vimeo, in iTunes, or download to see how QR codes can save time and and make classrooms a little more interactive and efficient. Transcript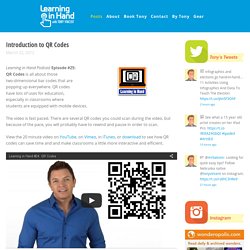 Learning in Hand #25: QR Codes