Green Schools
Garden Signs. Purchased designs come as PDF digital files.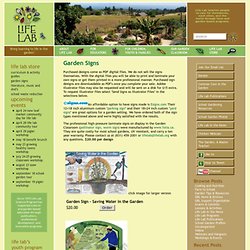 We do not sell the signs themselves. With the digital files you will be able to print and laminate your own signs or get them printed in a more professional manner. Purchased sign designs are downloadable as PDF's once you complete your sale. Adobe Illustrator files may also be requested and will be sent on a disk for $15 extra.
To request Illustrator files select "Send Signs as Illustrator Files" in the selections below. Beyond benign : green chemistry curriculum. Green Chemistry Online Course for Educators Green Chemistry is the science of creating safe, energy efficient and non-toxic products and processes and offers a concrete path towards solving the environmental problems our society faces today.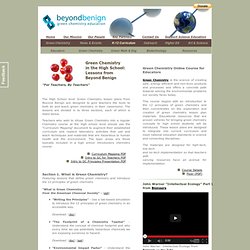 This course begins with an introduction to the 12 principles of green chemistry and then concentrates on the exploration and creation of green chemistry lesson plan materials. Educational resources that are proven vehicles for bringing green chemistry concepts to high school students will be introduced. These lesson plans are designed to integrate into current curriculum and meet national education standards in science and connecting disciplines. The materials are designed for high-tech, low-tech and no-tech implementation so that teachers withvarying resources have an avenue for implementation. Green Schools! | PLT Greenschools. Environmental Leadership Program (ELP) Promoting voluntary pollution prevention and waste reduction to improve the quality of Louisiana's environment.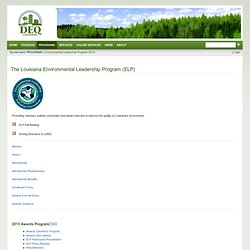 ELP Fall Meeting Driving Directions to LDEQ Mission History Membership. Green Schools! | PLT Greenschools. Eco-Schools USA. Siemens We Can Change The World Challenge. The 2013-2014 Siemens We Can Change the World Challenge is now closed.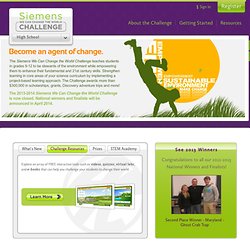 Team Advisors/Mentors - thank you for submitting your application (s). National winners and finalists will be announced in April 2014. Explore an array of FREE interactive tools such as videos, quizzes, virtual labs, and e-books that can help you challenge your students to change their world. Teams not only win big by learning how to make an environmental impact, but they can also win amazing prizes like $50,000 scholarships, Discovery adventure trips, tablets, green prize packs, and more! Looking for more STEM resources and professional development opportunities?
Project Earth | Home. Green Schools & Environmental Education. Environmental Education Environmental education engages students and raises achievement in science, math, language arts, and social studies.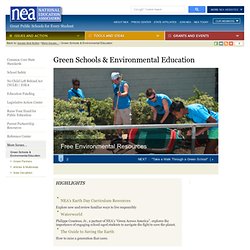 It also prepares them for the growing green workforce, provides service learning opportunities with the greater community, and creates a new generation of environmental stewards. Green Schools Green school facilities are healthier for students and school staff and improve learning and working conditions. Apply for Grants | Captain Planet Foundation. The Captain Planet Foundation will fund as many projects as its annual resources allow.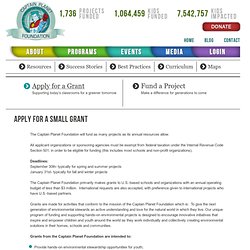 All applicant organizations or sponsoring agencies must be exempt from federal taxation under the Internal Revenue Code Section 501, in order to be eligible for funding (this includes most schools and non-profit organizations). Deadlines: September 30th- typically for spring and summer projects January 31st- typically for fall and winter projects The Captain Planet Foundation primarily makes grants to U.S. -based schools and organizations with an annual operating budget of less than $3 million. Go Green NOLA | Small Green Steps, Big Easy Change. GSA Home | Green Schools Alliance. CA Green. There are an estimated 47 million people who suffer from food insecurity in the U.S.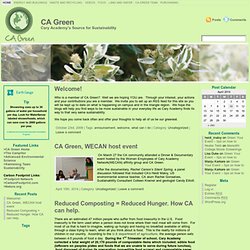 Food insecurity is the term used when a person does not know where their next meal will come from. For most of us that is hard to imagine, waking up hungry and having no breakfast available or sitting through a class trying to learn, when all you think about is food. This is the reality for millions of children in our country. According to the U.S department of agriculture, the average person eats between 4-5 pounds of food a day.
Home | Growing Greener Schools. Student Climate & Conservation Congress (SC3) | Green Schools Alliance. Sunday, June 22 - Saturday, June 28, 2014 Inviting rising 9 - 12th grade students to become a of the Sc3 CONGRESS The mission of the Student Climate & Conservation Congress (Sc3) is to empower outstanding student environmental leaders with the skills, knowledge, and tools necessary to address natural resource conservation challenges and better serve their schools and communities.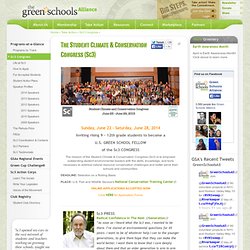 DEADLINE: Selection on a Rolling Basis PLACE: U.S. Why Green Schools are so Important. - Glenn Cook, Editor in Chief, American School Board Journal Green schools are more than buildings.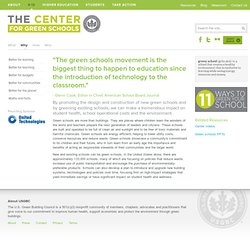 They are places where children learn the wonders of the world and teachers prepare the next generation of leaders and citizens.
---