Music Vids
Impressive Beatboxer And Singer Named THePETEBOX Creates This Entire Song Live [VIDEO]
Orchestra performs iconic theme song for "The Legend of Zelda 25th Anniversary" - The Feed Blog
(CBS) - There is a lot of excitement about the upcoming release of Nintendo's "The Legend of Zelda: Skyward Sword". Yesterday we showed you a fun, theatrical music rendition that paid homage to the legendary series. Today we have a much more classical tribute - take a listen. The performance by the orchestra was done for "The Legend of Zelda 25th Anniversary Special Orchestra CD". A nostalgic and beautiful piece of music that personally brings me back to many fond memories from my childhood.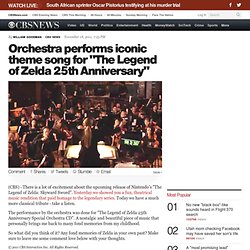 Water Caught at 7000 FPS Is Mesmerizing
While my ukulele gently weeps
Cinnamon Chasers - Luv Deluxe (Music Video) on Vimeo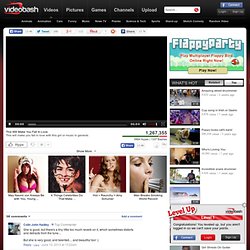 This Will Make You Fall In Love!
Level 1 Congratulations! You leveled up, but you aren't logged in so we can't save your points. Login
The Science of Popular Music or The Four Chord Song [video] // Current
To Our Faithful Current.com Users: Current's run has ended after eight exciting years on air and online. The Current TV staff has appreciated your interest, support, participation and unflagging loyalty over the years.
moogaloop.swf (application/x-shockwave-flash Object)
What The Cello And Bass Were Built For: Von Thord – Wedding Night [VIDEO]