L-System
papers/abop/abop.pdf
Graham Thompson
Final Scheme : Bio Fuel Farm (renderings)
Final Scheme : the necessary components
Further design ideas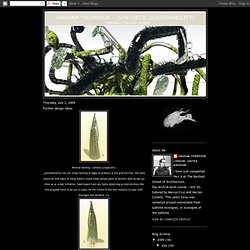 Thursday, July 2, 2009 Further design ideas
Final Scheme : Bio Fuel Farm (orthographic drawings)
Final Scheme : Bio Fuel Farm (technical components)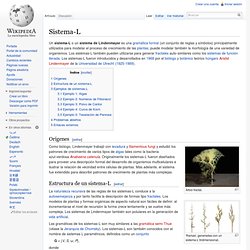 Sistema-L
Un sistema-L o un sistema de Lindenmayer es una gramática formal (un conjunto de reglas y símbolos) principalmente utilizados para modelar el proceso de crecimiento de las plantas ; puede modelar también la morfología de una variedad de organismos. Los sistemas-L también pueden utilizarse para generar fractales auto-similares como los sistemas de función iterada . Los sistemas-L fueron introducidos y desarrollados en 1968 por el biólogo y botánico teórico húngaro Aristid Lindenmayer de la Universidad de Utrecht ( 1925 - 1989 ).
Design by Evolution: Advances in Evolutionary Design (Natural Computing Series) (9783540741091): Philip F. Hingston, Luigi C. Barone, Zbigniew Michalewicz
On-Line Digital Archive of Documents on Weaving and Related Topics
Intro to L-systems
2 Email Pinterest Share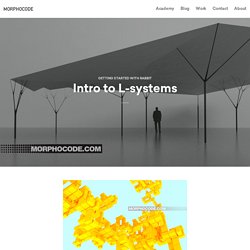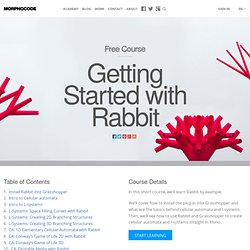 View More Installation Learn how to install RABBIT into Grasshopper View More Components reference Detailed description of each component that comes with RABBIT View More Intro to Cellular automata What is a Cellular automaton?
papers/abop/abop-ch1.pdf
Un algoritmo es una serie de pasos organizados que describe el proceso que se debe seguir, para dar solución a un problema específico. En los años 1970, de la mano de John Henry Holland , surgió una de las líneas más prometedoras de la inteligencia artificial , la de los algoritmos genéticos . [ 1 ] Son llamados así porque se inspiran en la evolución biológica y su base genético-molecular. Estos algoritmos hacen evolucionar una población de individuos sometiéndola a acciones aleatorias semejantes a las que actúan en la evolución biológica ( mutaciones y recombinaciones genéticas ), así como también a una Selección de acuerdo con algún criterio, en función del cual se decide cuáles son los individuos más adaptados, que sobreviven, y cuáles los menos aptos, que son descartados.
Algoritmo genético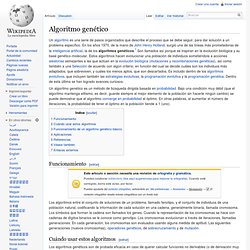 Algoritmos genéticos y computación evolutiva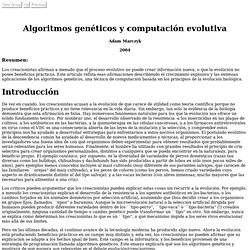 Resumen: Los creacionistas afirman a menudo que el proceso evolutivo no puede crear información nueva, o que la evolución no posee beneficios prácticos.