Gift ideas
Like a Candle in the Tin... Mapquesting « SeeMegShop.com. 1.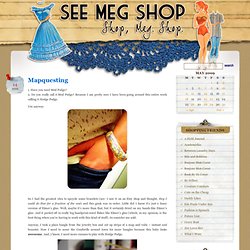 Have you used Mod Podge? 2. Do you really call it Mod Podge? Because I am pretty sure I have been going around this entire week calling it Hodge Podge. Ruffled® | DIY Wedding Favor Contest Tin Can Strawberry Plants. Today's DIY contest entry comes from Melanie Blodgett of You Are My Fave.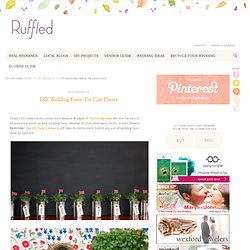 We love the idea of incorporating plants as your wedding favor, whether it's fruit (seen here), herbs, or even flowers! Reminder: Our DIY Favor Contest is still open to submissions! Submit any and all wedding favor ideas by April 3rd. Materials: - sheet metal or a piece of wood painted with magnetic primer - empty tin cans, label removed - twine - tags - stamp (or just pretty handwriting) - strong magnets - strawberry plants and soil (herbs, wheat grass, moss or flowers would work well too) - mini flag (made with a skewer and ribbon)
Tutorial Tuesday: Easy Button Magnets. These cute little buttons may just be the easiest craft project ever.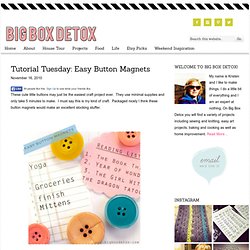 They use minimal supplies and only take 5 minutes to make. I must say this is my kind of craft. Packaged nicely I think these button magnets would make an excellent stocking stuffer. Mustache mug. A fun, easy and silly gift to give the cute men in our lives this Father's Day.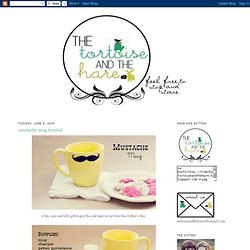 First, draw a mustache on the top of your mug with a sharpie marker. As you can see mine took a couple times to get right. Second, trace around the edges of the drawn mustache with your Pebeo pen.
Wrapping
Succulent teacups. Dolly lamp. DIY storybook paper roses | DIY Wedding. You're going to love today's DIY project so much that you're going to want to start tearing pages out from old books tonight!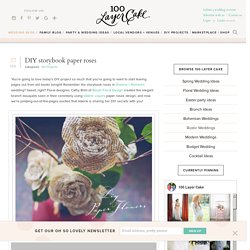 Remember the storybook roses in Shanna + Richard's wedding? Sweet, right? Floral designer, Cathy Brim of Bloom Floral Design created the elegant branch bouquets seen in their ceremony using Valerie Lloyd's paper roses design, and now we're jumping-out-of-the-pages excited that Valerie is sharing her DIY secrets with you! Craft Supplies:Paper Grosgrain Ribbon, ½ Width cut to 4 inch lengths 16 Gauge Wire cut to 15 inch lengths Glue Gun Glue Sticks (low temp) Scissors Wire Cutters. Wooden clothes hangers + Repurposed = Jewelry Organization! | Household6Diva. Welcome!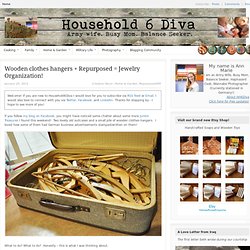 If you are new to Household6Diva I would love for you to subscribe via RSS feed or Email. I would also love to connect with you via Twitter, Facebook, and LinkedIn. Dictionary Tea Light Variety Pak by CarolinaCottage. <div id="javascript-nag" class="notice"><p> Take full advantage of our site features by enabling JavaScript.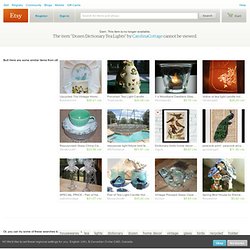 <a href=" more</a>. </p></div> Help.
---