TEXT<
The SpicyNodes chefs are hard at work creating the next generation of interactive data experiences using SpicyNodes on the iPad. SpicyNodes excels for browsing big, related data. Imagine what it could do for your rich content about related ideas, people, apps, music, arts, sciences, business concepts, and so on. You can get a taste for the power of SpicyNodes from our proof-of-concept app, WikiNodes, which displays related Wikipedia articles using nodes. This app was featured by Apple in the App Store for "Reference" in Summer 2013.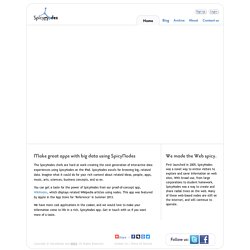 QikPad: Collaborate Notepad Online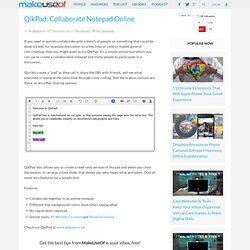 If you need to quickly collaborate with a bunch of people on something that could be done via text, for example discussion on a few lines of code or maybe general chit-chatting, then you might want to try QikPad. It's a simple online tool which you can use to create a collaborative notepad and invite people to participate in a discussion. Quickly create a "pad" as they call it, share the URL with friends, and see what everyone is typing at the same time through color coding. Text decoration options are there, as are other sharing options. QikPad also allows you to create a read-only version of the pad and when you close the session, it can play a time slider that shows you who typed what and when. Overall, some nice features for a simple tool.
Basic Text Tools: Add/Remove Line Breaks - Add new line breaks and/or remove exisiting line breaks within your text's formatting. Merge Text (Line by Line) - Merge two sets of text line by line with the option of writing a prefix, divider or suffix into each merged line.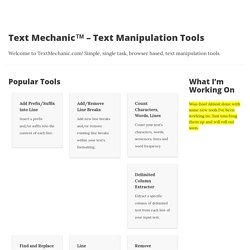 MyStickies lets you save the web for later To put it simply, MyStickies allows you to place little yellow squares of digital paper anywhere and everywhere you feel like in the whole wide web. Along with the ability to put sticky notes on webpages mystickies offers a powerful interface to browse, search, sort, edit and generally have a wonderfull time with your sticky notes from any computer that has internet access. Goodbye to Bookmarks?
Solved: Extract sentences containing a specific word to excel file - VBA Express Forum
Commercial | online | free Text Analytics: WordStat, ProSuite, QDA Miner - learn more On-line Text Mining / Text Analytics Tools Ranks.nl, keyword analysis and webmaster tools.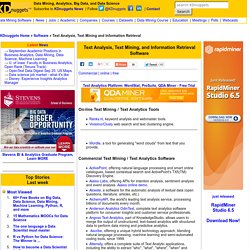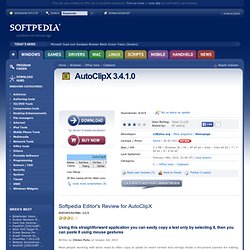 Most people working with texts need to often copy or paste to insert certain text strings inside a document opened for editing. Since most applications already have such abilities, an innovative approach to these actions like that offered by AutoClipX may be highly appreciated. This particular software solution is designed to make text copying and pasting much more easy and also it provides a most useful clipboard management feature called Clip Man.
Download AutoClipX 2.1.2.0 Free - Automatically copy selected text then paste with one click!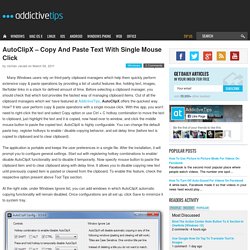 AutoClipX – Copy And Paste Text With Single Mouse Click
Many Windows users rely on third-party clipboard managers which help them quickly perform extensive copy & paste operations by providing a list of useful features like, holding text, images, file/folder links in a stack for defined amount of time. Before selecting a clipboard manager, you should check that which tool provides the fastest way of managing clipboard items. Out of all the clipboard managers which we' have featured at AddictiveTips, AutoClipX offers the quickest way. How? It lets user perform copy & paste operations with a single mouse click.