Software
TinyApps.Org : Home. What's a little-known site you think everyone should know about? : AskReddit. Install or Update Multiple Apps at Once. You can learn more about a program by hovering over it.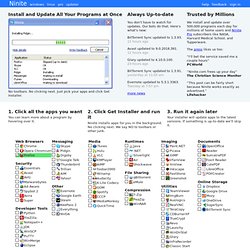 Ninite installs apps for you in the background. No clicking next. We say NO to toolbars or other junk. Your installer will update apps to the latest versions. If something is up-to-date we'll skip it. NirSoft - freeware utilities: password recovery, system utilities, desktop utilities. Studio - Virtualize applications for Spoon Server and Spoon.net. Spoon Studio packages virtual applications that are easy to deploy and manage—no installs, dependencies, or conflicts.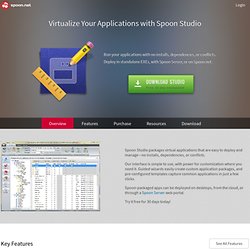 Our interface is simple to use, with power for customization where you need it. Guided wizards easily create custom application packages, and pre-configured templates capture common applications in just a few clicks. 10 Greatest Open Source Software Of 2009. These are full-featured cross-platform softwares, free as in beer and speech.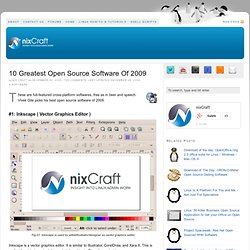 Vivek Gite picks his best open source software of 2009. #1: Inkscape ( Vector Graphics Editor ) App Store Allmyapps - Windows Application Store for PC and Web Apps. Free Software, Programs And Games To Download (PinGUY's Website) Free Software | bigBrains.com. Add-on Compatibility Center. Nejstahovanější programy roku 2010 - Digitálně Stahuj.cz. Rok 2010 je úspěšně za námi a můžeme se společně podívat, jak vypadal v řeči čísel a statistik na našem serveru Stahuj.cz.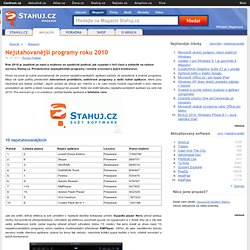 Představíme nejúspěšnější programy i mnohá srovnání s jejich konkurencí. Hned na úvod je nutné poznamenat, že pozice nejstahovanějších aplikací udržely již zavedené a známé programy. Vybrali jsme 20 parádních aplikací pro váš nový počítač. Nový počítač přináší radost z vyššího výkonu, většího množství paměti a úložného prostoru a mnohdy i lepší výbavy.
Starosti ale přidělá prázdnou záložkou "Programy". Podívejme se, co by nemělo chybět ve správném počítači. Windows Live Essentials. Shortcutor - Stahuj.cz. Definice klávesových zkratek pro cokoliv Perfektní řešení pro milovníky klávesových zkratek.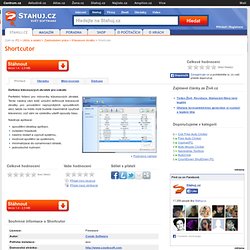 Tento nástroj vám totiž umožní definovat klávesové zkratky pro provádění nejrůznějších spouštěcích akcí, takže na místo myši budete maximálně využívat klávesnici, což vám ve výsledku ušetří spousty času. Nástroje aplikace: spouštění desktop aplikací, ovládání hlasitosti, násilný restart a vypnutí systému, možnost spuštění se systémem, minimalizace do oznamovací oblasti, jednoduché rozhraní. Most Popular Top 10s of 2009. Freeware Alternative List - Neowin Forums. 47 Sites Every Recording Musician Should Visit | Audiotuts+ In a recent "Open Mic" we asked you, "Which music-related sites do you visit regularly?"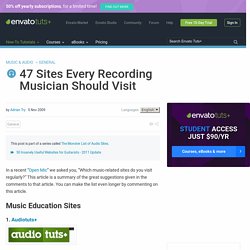 This article is a summary of the great suggestions given in the comments to that article. You can make the list even longer by commenting on this article. Music Education Sites. 15 Web Alternatives to Popular Desktop Software. Web applications have come a long way.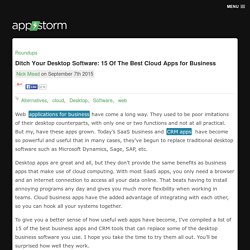 They used to be amateur imitations of their desktop counterparts, with only one or two functions and not at all practical. But my, have these web apps grown. Web apps these days have become so powerful and useful that in some cases, they've begun to replace desktop software. Desktop programs are great and all, but they don't provide the same benefits as web apps that make use of cloud computing. With most web apps, you only need a browser and an internet connection to access all your data online.
Pack 2009: Our List of Essential Free Windows Downloads. Back to School: 10 Great Web Apps for College Students. For a lot of college students, the new semester is just around the corner.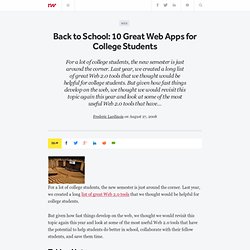 Last year, we created a long list of great Web 2.0 tools that we thought would be helpful for college students. But given how fast things develop on the web, we thought we would revisit this topic again this year and look at some of the most useful Web 2.0 tools that have the potential to help students do better in school, collaborate with their fellow students, and save them time. Taking Notes 1) Evernote. Ninite Easy PC Setup - Silent Unattended Install Multiple Programs At Once. Most Essential Free Softwares After Windows Installation | TutZone. As a Windows lover, I have always tried to make it more secure, convenient and easy to use.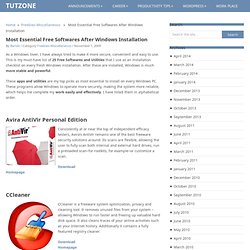 This is my must-have list of 25 Free Softwares and Utilities that I use as an installation checklist on every fresh Windows installation. After these are installed, Windows is much more stable and powerful. These apps and utilities are my top picks as most essential to install on every Windows PC. Top Web-Based Online Tools ~ TopWebBased.com.
Tricks. Google Chrome. Overview best download websites - Kadaza.com. Firefox. Downloads. Clips.
---