Software
Install or Update Multiple Apps at Once
No Clicking Next, Next, Next Ninite fully automates installers offscreen. No Toolbars Ninite automatically says "No" to toolbars and other junk.
3/7/2013 Spoon Studio update with ThinApp Migration now available! This update includes a new one-click ThinApp package migration tool allowing ThinApp packages to be instantly imported into Spoon Studio. Bulk migration can also be automated via a new option in the XStudio command-line tool.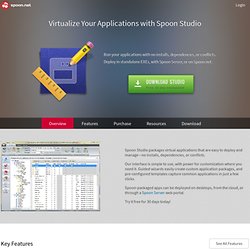 T hese are full-featured cross-platform softwares, free as in beer and speech. Vivek Gite picks his best open source software of 2009. #1: Inkscape ( Vector Graphics Editor )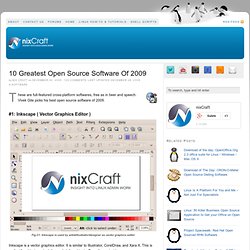 Free Software, Programs And Games To Download (PinGUY's Website)
Add-on Compatibility Center
Rok 2010 je úspěšně za námi a můžeme se společně podívat, jak vypadal v řeči čísel a statistik na našem serveru Stahuj.cz. Představíme nejúspěšnější programy i mnohá srovnání s jejich konkurencí. Hned na úvod je nutné poznamenat, že pozice nejstahovanějších aplikací udržely již zavedené a známé programy.
Nejstahovanější programy roku 2010 - Digitálně Stahuj.cz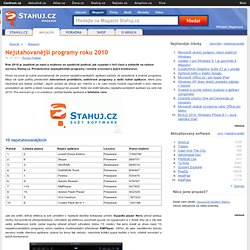 Nový počítač přináší radost z vyššího výkonu, většího množství paměti a úložného prostoru a mnohdy i lepší výbavy. Starosti ale přidělá prázdnou záložkou "Programy". Podívejme se, co by nemělo chybět ve správném počítači. Windows Live Essentials
Vybrali jsme 20 parádních aplikací pro váš nový počítač
Shortcutor - Stahuj.cz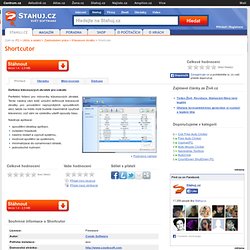 Definice klávesových zkratek pro cokoliv Perfektní řešení pro milovníky klávesových zkratek. Tento nástroj vám totiž umožní definovat klávesové zkratky pro provádění nejrůznějších spouštěcích akcí, takže na místo myši budete maximálně využívat klávesnici, což vám ve výsledku ušetří spousty času. Nástroje aplikace: spouštění desktop aplikací, ovládání hlasitosti, násilný restart a vypnutí systému, možnost spuštění se systémem, minimalizace do oznamovací oblasti, jednoduché rozhraní.
Most Popular Top 10s of 2009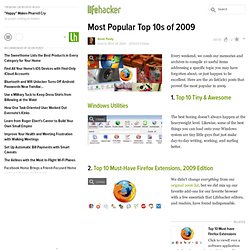 Every weekend, we comb our memories and archives to compile 10 useful items addressing a specific topic you may have forgotten about, or just happen to be excellent. Here are the 20 list(icle) posts that proved the most popular in 2009. 1. Top 10 Tiny & Awesome Windows Utilities The best boxing doesn't always happen at the heavyweight level.
Freeware Alternative List - Neowin Forums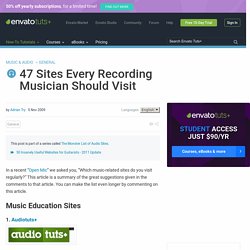 In a recent " Open Mic " we asked you, "Which music-related sites do you visit regularly?" This article is a summary of the great suggestions given in the comments to that article. You can make the list even longer by commenting on this article. Music Education Sites 1. Audiotuts+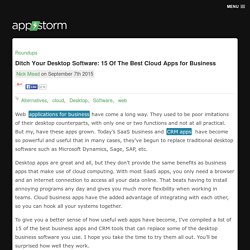 Web applications have come a long way. They used to be amateur imitations of their desktop counterparts, with only one or two functions and not at all practical. But my, have these web apps grown. Web apps these days have become so powerful and useful that in some cases, they've begun to replace desktop software. Desktop programs are great and all, but they don't provide the same benefits as web apps that make use of cloud computing. With most web apps, you only need a browser and an internet connection to access all your data online.
We feature downloads of all kinds every day at Lifehacker. Today, however, we're bundling all the best free downloads for new computer owners, re-installers, would-be geeks, or anyone who wants to save time installing the best stuff out there. This is our 2009 Lifehacker Pack for Windows computers. The idea is the same as when we first introduced the Lifehacker Pack more than three years ago—a single, handy list that we think improves the computer lives of Windows users. We're also providing a utility to download some or all of these applications at once—more on that after the list. You can head directly to each application's download page from the [Download] links following their write-ups, and see what Lifehacker originally wrote about them at the [LH Post] link.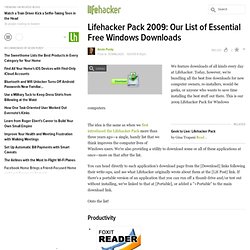 Back to School: 10 Great Web Apps for College Students
Most Essential Free Softwares After Windows Installation | TutZone
As a Windows lover, I have always tried to make it more secure, convenient and easy to use. This is my must-have list of 25 Free Softwares and Utilities that I use as an installation checklist on every fresh Windows installation. After these are installed, Windows is much more stable and powerful . These apps and utilities are my top picks as most essential to install on every Windows PC.
Top Web-Based Online Tools ~ TopWebBased.com
Overview best download websites - Kadaza.com