PICTURE<
The Best Articles for Learning More About Editing Images and Photos. Now that you've learned how to take beautiful photographs, you can learn how to use Photoshop, GIMP, Paint.NET, and other editing programs to edit and enhance your images and photos, along with learning some general terminology and information.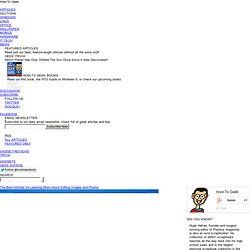 Using Photoshop, GIMP, or Paint.NET Photoshop is a very popular photo or image editing program, and GIMP and Paint.NET are very good free alternatives to Photoshop. The following articles show you many different techniques and tricks for editing photos and creating images using these three programs. Enhancing Photo Editing Software GIMP is a great free option to Photoshop with a lot of useful features. 45 Best Freeware Apps. In a previous post I gave you a list of 85+ Free Killer Resources Every Designer Should Know, which had a great response.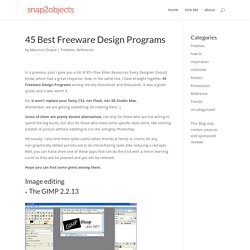 Now, in the same line, I have brought together 45 Freeware Design Programs among literally thousands and thousands. It was a great quest, and it was worth it. Identify Colors Detected From Mouse Cursor With Colorblind Assistant. People suffering from color blindness cannot always differentiate between different elements of applications and webpages that are in green or red shades, including both text and background color.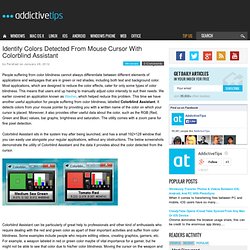 Most applications, which are designed to reduce the color effects, cater for only some types of color blindness. This means that users end up having to manually adjust color intensity to suit their needs. We earlier covered an application known as Washer, which helped reduce this problem. This time we have another useful application for people suffering from color blindness, labelled Colorblind Assistant. It detects colors from your mouse pointer by providing you with a written name of the color on which your cursor is placed.
Picture edit. PHOTO. PAINTING.
---