Photoshop
Photoshop Tutorials: Toolbox Reference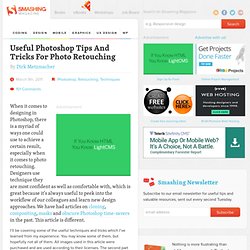 When it comes to designing in Photoshop, there is a myriad of ways one could use to achieve a certain result, especially when it comes to photo retouching. Designers use technique they are most confident as well as comfortable with, which is great because it's always useful to peek into the workflow of our colleagues and learn new design approaches. We have had articles on cloning , compositing , masks and obscure Photoshop time-savers in the past. This article is different. I'll be covering some of the useful techniques and tricks which I've learned from my experience.
Video
Video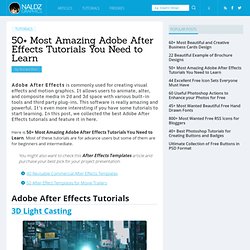 Adobe After Effects is commonly used for creating visual effects and motion graphics. It allows users to animate, alter, and composite media in 2d and 3d space with various built-in tools and third party plug-ins. This software is really amazing and powerful.
Don't Forget to participate in a contest where you can win the world's biggest UI elements pack "Impressionist User Interface Elements Pack" for 3 winners (1 developer license and 2 personal license) to design your project more creatively. This post showcases a list of useful and unique photography related tutorials that will help you learning the skills of a trained photographer. The field of photography has extensively grown over the past few years to such a huge industry with millions of photographers emerging every day around the globe and mastering their skills in different areas of photography.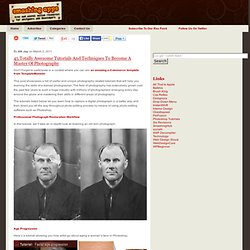 Last database update :- 28th March, 2013 30717 items listed If you're concerned about why your Windows 7/Vista/XP PC takes so long to boot when you switch it on then it's probably due to the number of programs that run at system startup - and this is the place for you. Such programs typically (but not always) include an icon in the System Tray in the bottom right-hand corner of the screen - next to the clock.
Windows startup programs - Index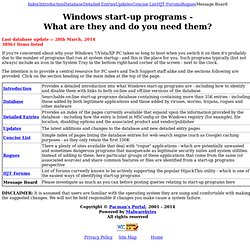 Photoshop CS5 Tutorials | One-on-One Fundamentals
Brasscheck TV: Profiles in real courage - - Gmail
Photoshop tutorials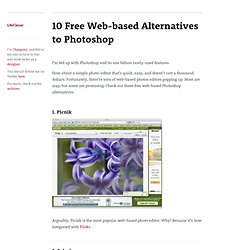 I'm fed up with Photoshop and its one billion rarely-used features. How about a simple photo-editor that's quick, easy, and doesn't cost a thousand dollars. Fortunately, there're tons of web-based photos editors popping up. Most are crap, but some are promising. Check out these free web-based Photoshop alternatives: Arguably, Picnik is the most popular web-based photo editor.
Learning | Search Results
Free Photoshop Actions for Photographers - ADDICTED TO DESIGN - Lomo action, Polaroid action, Infrared action, Night Vision action, CS4, CS3
How To Make Fake High Dynamic Range Photos In Photoshop
Whatever the case may be, the results can be pretty impressive, but how is it done exactly? Do you need a fancy camera and special HDR software? Not necessarily.