online services
Get flash to fully experience Pearltrees
Outfitting your computer with the latest software can be expensive. Time and money aren't things to be wasted. With sky rocketing prices for desktop applications, you need to arm yourself with the right alternatives. Fortunately, there is a great alternative out there: the Internet. As hard as it is to believe, just by surfing around online, you can access most of the desktop app functionalities you need without shelling out a cent.
I have compiled a list of 15 free online tools that will help you greatly as a tech. I'm sure that there are other good ones that I have left out so please feel free to post the ones that you like as well. IPTools offers a wide variety of online networking tools. With this site you can look up IP address information, check spam databases, run pings, run traceroutes, lookup WHOIS information and much more. BugMeNot allows you to find and share logins for sites that require you to register.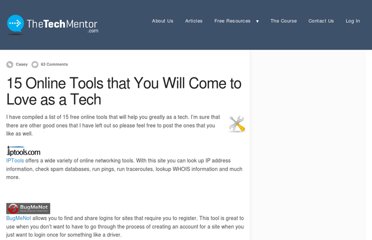 Since May 2007, we've been bringing you resources and tools to be more productive on the web. Due to popular demand, we've brought all these lists together into one gigantic meta-list: 5000+ Resources to Do Just About Anything Online. Enjoy! And don't forget to subscribe to Mashable for the latest web news and resources. 6 Key Ways to Measure Your Blog's Success - Six essential tools for measuring how your blog is performing.
About two years ago when I became a full time freelance web designer, I made it a point to operate with little overhead. Even though I was confident I could make it as a freelancer, there was some fear that things might not go as planned. Because of this, I didn't go out and spend lots of money on equipment and expensive software. My focus was on being frugal and saving money where I could. One way I was able to do this was using free online tools or web apps to perform my everyday tasks as a web designer.
What is ZumoDrive? ZumoDrive is a personal content mover that easily gets ALL your content onto any of your devices, including your netbook, tablet and smartphone. With ZumoDrive, you can now take your music, photos, videos, documents and other files wherever you go regardless of where the files originated, how much on-device storage capacity is available, or whether you're online or off.
Well, for one you can skip rushing through the city. What do you think online shopping was invented for? Exactly, to save time, be lazy, and shop from home (or work). So why not organize your 'Thank You' gift online? If you're thinking 'Amazon voucher' STOP!