Mail
www.cardsimple.com | simple, original and contemporary free e-cards.
PipeBytes - Free and easy file transfers.
Jacquie Lawson animated birthday e-cards
HitMeLater - A Snooze Button For Your Email
1-CLICK Web hosting - Easy Filehosting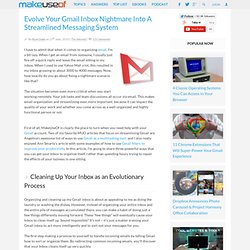 Evolve Your Gmail Inbox Nightmare Into A Streamlined Messaging System
The situation becomes even more critical when you start working remotely. Your job tasks and team discussions all occur via email. This makes email organization and streamlining even more important, because it can impact the quality of your work and whether you come across as a well-organized and highly functional person or not. First of all, MakeUseOf is clearly the place to turn when you need help with your Gmail account.
The best and most popular web browsers.