Hand painting
ArtPad. DeviantART muro. Repper Lite | online pattern creator. Photo Editor. PsykoPaint: Turns Your Pictures Into Awesome Paintings. If you want to give your images an original painting feel check out PsykoPaint.com.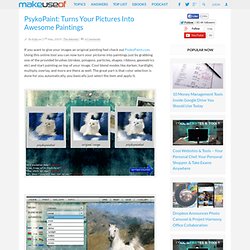 Using this online tool you can now turn your pictures into paintings just by grabbing one of the provided brushes (strokes, polygons, particles, shapes, ribbons, geometrics etc) and start painting on top of your image. Cool blend modes like darken, hardlight, multiply, overlay, and more are there as well. Shmegs - XSketch. º Flash PAINT º Online Painting Tool © Psykopaint Beta 2 - Online photo painting tool. Sketch Swap. Harmony. Jackson Pollock by Miltos Manetas, original design by Stamen, press any key to s.
Jacksonpollock_by_miltos_manetas.swf (application/x-shockwave-flash objekt) Create Drawings Online & Rate Others With SketchFu. Are you a self proclaimed artist?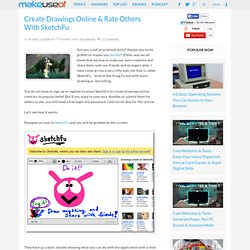 Maybe you write graffiti or maybe you doodle? Either way we all know that we love to make our own creations and share them with our friends and strangers alike. I have come across a very nifty web site that is called SketchFu – kind of like Kung Fu but with more drawing,m, less killing. You do not have to sign up or register to enjoy SketchFu to create drawings online, contrary to popular belief. But if you want to save your doodles or submit them for others to see, you will need a free login and password. MyPaint – A Free Painting Application With Photoshop Features. Plus I wanted something simple I could open for my daughter to draw on and I wanted it to automatically open a new document the entire size of the window.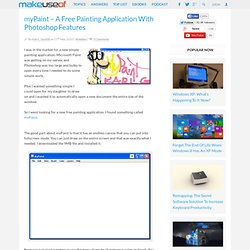 So I went looking for a new free painting application. I found something called myPaint. The good part about myPaint is that it has an endless canvas that you can put into fullscreen mode. You can just draw on the entire screen and that was exactly what I needed. I downloaded the 9MB file and installed it. ScribblerToo :: Mario Klingemann update :: zefrank. Lunchtimers.com - Multi user Online Flash Games: Just Letters, The Scratchpad and more. Painter | Slimber.com - Drawing and Painting Online. New sketch.
Pen And Ink __________________________________ FlockDraw. Pixie - Where pixels become heroes, together. Draw online with the free drawing software. Drawing online at RateMyDrawings is simple yet powerful.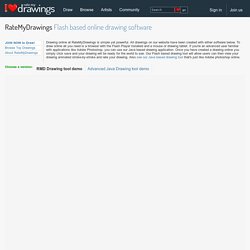 All drawings on our website have been created with either software below. To draw online all you need is a browser with the Flash Player installed and a mouse or drawing tablet. If you're an advanced user familiar with applications like Adobe Photoshop, you can use our Java based drawing application. Once you have created a drawing online you simply click save and your drawing will be ready for the world to see. Our Flash based drawing tool will allow users can then view your drawing animated stroke-by-stroke and rate your drawing. Collaborative Doodle Pad - Sneffel. Imagination Cubed. Color pixel wall - Colorpx. Splash 2. Create Your Own Snowflakes on zefrank. Bomomo. Painter.swf (application/x-shockwave-flash objekt)
---