COMMUNICATION
5 Simple Ways To Fix Low Audio Quality on Skype (or other VoIP services) That's all well and good, but frequently using such services results in complaints on the other end about poor VoIP audio quality.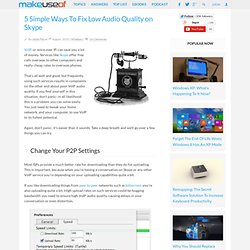 If you find yourself in this situation, don't panic: in all likelihood this is a problem you can solve easily. You just need to tweak your home network, and your computer, to use VoIP to its fullest potential. Again, don't panic; it's easier than it sounds. Take a deep breath and we'll go over a few things you can try. Change Your P2P Settings.
Phone
Mozaiq. This is mozaiq's steganograpy service.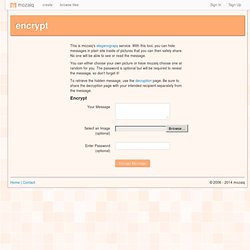 With this tool, you can hide messages in plain site inside of pictures that you can then safely share. No one will be able to see or read the message. You can either choose your own picture or have mozaiq choose one at random for you. The password is optional but will be required to reveal the message, so don't forget it! Communication. Media.
SMS
Přihlášení. Inbox (33) - - Gmail. BuddyFox: Firefox Based Instant Messaging. Písmo. Mail.
---