Jfgl
Jar Foglar
The 50 Best Registry Hacks that Make Windows Better. We're big fans of hacking the Windows Registry around here, and we've got one of the biggest collections of registry hacks you'll find.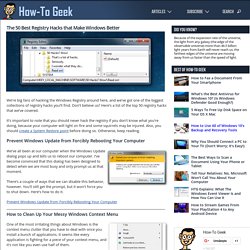 Don't believe us? Here's a list of the top 50 registry hacks that we've covered. It's important to note that you should never hack the registry if you don't know what you're doing, because your computer will light on fire and some squirrels may be injured. Also, you should create a System Restore point before doing so. Otherwise, keep reading. Computing.
Záložky. St 169 b. St 169 a. Číst později. Malování. Simple JavaScript Particles. A politika. A-B-C. D-E-F. G-H-CH. I-J-K.
L-M-N. O-P-R. S-T-U. V-Z. CHECK.
---
topoletta Jun 4 2013

You're welcome. Enjoy your day!

jfgl Jun 2 2013

Thank you very much for your warning

topoletta Jun 2 2013

Hi jfgl, I'm very happy to see I've got some pearls that interested you. You took the 50 sites to get free online stuff. I have to warn you about ⚠wippy.com ⚠it's a scam they give you a free bid you win, give them your credit card number and they take 49€ + the money on the credit card acc. I had to make a new account to be sure they wouldn't do it also next month. Don't remember if it was you I've warned. But in case, twice is better than never. Ah I've never seen my pack... Once and never again.

pashadolce Aug 3 2010

Hello, I'm glad you find my stuff interesting enought to follow. H ave fun!
---