neurociencia
Get flash to fully experience Pearltrees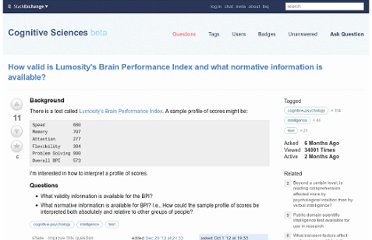 General thoughts on brain training : Lumosity is a commercial tool that aims to improve brain functioning. In general, I am sceptical of the potential for "brain training programs" to improve cognitive functioning in a generalised way (e.g., see this Nature discussion ). Practice is powerful, but tends to be domain specific. So if you want to become skilled in brain training tasks, then do brain training exercises, but if you want to become skilled in a particular domain of life, then study and get experience in that domain. While I can see the value in researching the topic, I can also see the potential for sellers of "brain training" programs to exploit people's concerns about their mental shortcomings or about fears of mental deterioration with ageing.
This month, we feature videos of a Greater Good presentation by Rick Hanson, the best-selling author and trailblazing psychologist. In this excerpt from his talk, Dr. Hanson explains how we can take advantage of the brain's natural "plasticity"—it's ability to change shape over time.
Un espray contra la timidez Artículo visto: 26854 veces La timidez puede llegar a ser un serio obstáculo que impide a algunas personas enfrentarse con normalidad a situaciones de la vida cotidiana.
10 cosas que deberías saber sobre cómo funciona tu cerebro Artículo visto: 68287 veces Fotos: El cerebro al desnudo Haz click aquí 2012 es el "Año de la Neurociencia" en España. Aquí tienes selección de 10 cosas que los científicos descubrieron sobre el cerebro en 2011 y que deberías conocer.
Myth #1 – Introverts don't like to talk . This is not true. Introverts just don't talk unless they have something to say. They hate small talk.
Dec. 6, 2010 Study showing that humans have some psychic powers caps Daryl Bem's career It took eight years and nine experiments with more 1,000 participants, but the results offer evidence that humans have some ability to anticipate the future. "Of the various forms of ESP or psi, as we call it, precognition has always most intrigued me because it's the most magical," said Daryl Bem, professor of psychology emeritus, whose study will be published in the American Psychological Association's Journal of Personality and Social Psychology sometime next year. "It most violates our notion of how the physical world works.