Taller
Inicio.
OBD2. Dominios :: Tus dominios. Soft Zone : Blog sobre Software con tutoriales de ayuda y noticias. Información. Tabla ecovalor. Recogidas gratis de papel. SIGNUS > Home. ERP/CRM Dolibarr - ERP CRM gratuito open source. Jasperserver : JasperForge. Dibuja Libremente. Inkscape at the Libre Graphics Meeting April 12, 2014 The Inkscape project mustered nine developers, translators and document writers for a productive meeting.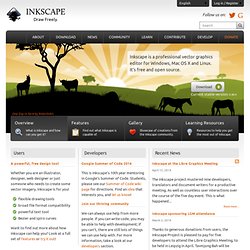 As well as countless user interactions over the course of the five day event. Portada - Dolibarr Wiki. Productos Fax y SMS - OVH. Oficial mercado de complementos de Dolibarr ERP/CRM - DoliStore - DoliStore. MODULO 2Reports. Acceso a demo Gestión, visualización, impresión y exportación de informes o reportes.
La exportación se puede realizar en CSV y PDF. Se pueden añadir gráficos y solicitar más informes. El módulo nos permite gestionar la agrupación de los informes, y la creación de nuevos grupos.
Cortina PVC.
---