SCHOOLS OF OT
Course sub-headings Course overview Occupational therapists have specialised knowledge to promote health and wellbeing through occupation. Using their understanding of occupation and health, occupational therapists work collaboratively with people who might have limitations, including those caused by injury, health conditions, delayed development or the effects of ageing. Occupational therapy interventions are designed to enhance participation in everyday life and may include activities or assistive devices, or modification of home or work environments to facilitate active engagement in work, home, social and leisure activities.
Course search
The first year of this program combines studies in theoretical and practical occupational therapy, with biological and behavioural sciences. In second year, students develop this knowledge and apply theory to practical problems of occupational therapy. Third-year students focus on occupational therapy techniques, with clinical practice in teaching units in hospitals and community health agencies. The final year extends clinical experience and examines professional issues. Students also undertake studies in statistics and research techniques. See the course list for courses that can be studied as part of the Bachelor of Occupational Therapy.
Bachelor of Occupational Therapy - Courses and Programs - The University of Queensland, Australia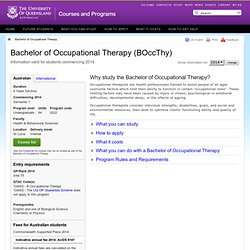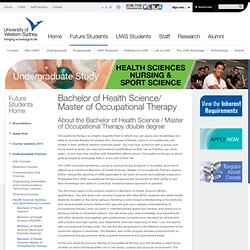 About the Bachelor of Health Science / Master of Occupational Therapy double degree Occupational therapy is a highly regarded field in which you can apply your knowledge and skills to provide therapy for people who, because of illness, injury or circumstances, are limited in their ability to perform everyday tasks. You may help someone with a spinal cord injury return to work, you may recommend modifications to their car so that they can drive again, or you may help children with disabilities attend school. Occupational therapy is about getting people to participate fully in every part of their life.
UWS: Bachelor of Health Science/ Master of Occupational Therapy
School of Occupational Therapy
Teesside University - Inspiring success - University of the Year 2009/10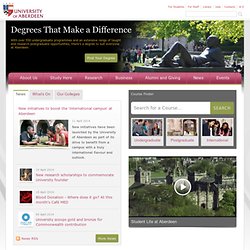 Degrees That Make a Difference With over 550 undergraduate programmes and an extensive range of taught and research postgraduate opportunities, there's a degree to suit everyone at Aberdeen. Find Your Degree Course Finder Undergraduate Postgraduate International
Escola Superior de Saúde do Alcoitão
EESP - Lausanne
FH Campus Wien
The University of York
ESTSP - IPP
Katholieke Hogeschool Brugge–Oostende (Catholic University College of Bruges–Ostend) provides a whole range of professionally and academically oriented study programmes at the level of Bachelor and Master. Catholic University College of Bruges-Ostend is the result of a merger of 5 former independent colleges of higher education in Bruges and Ostend Approx. 3800 studentsApprox. 400 members of staff (330 FTE) 4 faculties: Faculty of Engineering TechnologyFaculty of Education and Teacher TrainingFaculty of Health CareFaculty of Management and Business Studies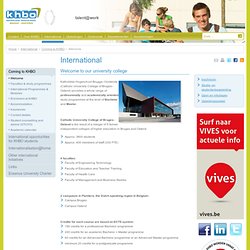 KHBO