SCHOOLS OF OT
Course sub-headings
Course search
The first year of this program combines studies in theoretical and practical occupational therapy, with biological and behavioural sciences. In second year, students develop this knowledge and apply theory to practical problems of occupational therapy.
Bachelor of Occupational Therapy - Courses and Programs - The University of Queensland, Australia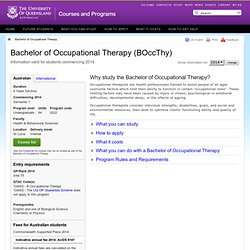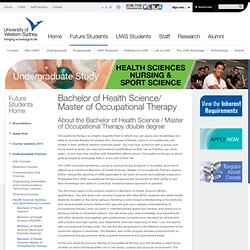 About the Bachelor of Health Science / Master of Occupational Therapy double degree
UWS: Bachelor of Health Science/ Master of Occupational Therapy
School of Occupational Therapy
Teesside University - Inspiring success - University of the Year 2009/10
Escola Superior de Saúde do Alcoitão
EESP - Lausanne
FH Campus Wien
The University of York
ESTSP - IPP
Katholieke Hogeschool Brugge–Oostende (Catholic University College of Bruges–Ostend) provides a whole range of professionally and academically oriented study programmes at the level of Bachelor and Master.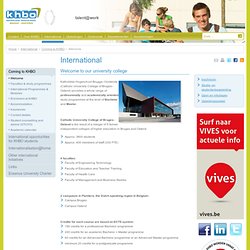 KHBO