Design
Developing a Color Scheme and Color Management Tips. Building a website can come with a few unexpected hiccups, one of those being color.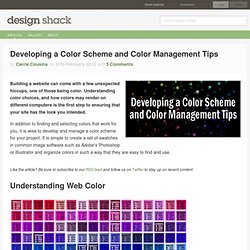 Understanding color choices, and how colors may render on different computers is the first step to ensuring that your site has the look you intended. In addition to finding and selecting colors that work for you, it is wise to develop and manage a color scheme for your project. It is simple to create a set of swatches in common image software such as Adobe's Photoshop or Illustrator and organize colors in such a way that they are easy to find and use. Like the article?
30 Free and Classy Thin Fonts. Typography is a crucial element of web and graphic design, but choosing the best suited typeface is sometimes tricky.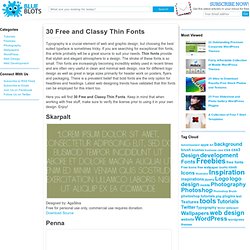 If you are searching for exceptional thin fonts, this article probably will be a great source to suit your needs. Thin fonts provide that stylish and elegant atmosphere to a design. The stroke of these fonts is so small. 50 Creative and Effective Minimalist Print Ads | Onextrapixel - Web Design & Development Magazine. Simple things are often more difficult to create as they require much more brain power to generate as compared to the most intricate stuff.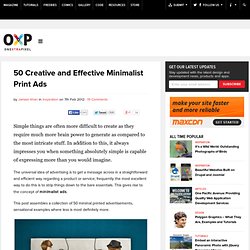 In addition to this, it always impresses you when something absolutely simple is capable of expressing more than you would imagine. The universal idea of advertising is to get a message across in a straightforward and efficient way regarding a product or service; frequently the most excellent way to do this is to strip things down to the bare essentials. This gives rise to the concept of minimalist ads. This post assembles a collection of 50 minimal printed advertisements, sensational examples where less is most definitely more. Creative and Effective Minimalist Print Ads.
Ilustraciones. Cosas. Apps. Logos. Tutoriales. Cosas Gratis.
---