Arquitectura
Beauty, Style and Grandeur atop Bear Mountain | 2300 Compass Pointe Pl, Victoria Property Listing: MLS# 298316. 44 ASPEN RIDGE HT SW | 44 ASPEN RIDGE HT SW, Calgary Property Listing: MLS# C3484706. Blending in Its Surrounding Landscape: La Vinya Residence in Spain. La Vinya is a massive residence designed by studio Lagula Arquitectes and located in Caldes de Malavella, Spain.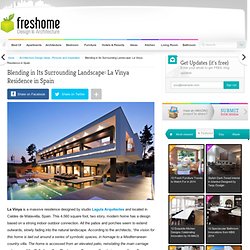 This 4,560 square foot, two story, modern home has a design based on a strong indoor outdoor connection. All the patios and porches seem to extend outwards, slowly fading into the natural landscape. According to the architects, "the vision for this home is laid out around a series of symbolic spaces, in homage to a Mediterranean country villa. The home is accessed from an elevated patio, reinstating the main carriage entrances of the Palladian villas.
The terrace offers magnificent views over the golf course, extending the vista from the living room and making it a privileged vantage point overlooking the landscape. Highly Versatile Sofa for an Interior Constantly Changing Its Appearance. Milan-based designer Emanuele Magini created the "Sosia" sofa for Italian firm Campeggi.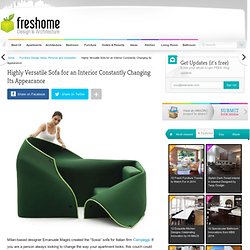 If you are a person always looking to change the way your apartment looks, this couch could turn out to be a good practical solution. With no less than nine different configurations, the sofa is highly versatile and ensures a high level of comfort. Revamped Lakefront Residence Defined by Unique Details. Transforming a 1960′s split-level building into a fascinating contemporary residence resulted in a beautiful combination of old flare and new sophistication.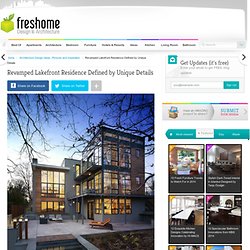 Moore Architects managed to create a stunning collection of spaces gathered in a home named Lakefront Residence. As described by the architects, this home is organized according to the owner's needs while taking into account the existing building: "Saving the bones of the front to back split-level, the architects sought to use this basic organization to an advantage: exploiting the street side / water side split personality of the residence, but acknowledging that the fun is in the modern connection of the two worlds. The landscaped street face of the house, containing the entry, office, garage and guest rooms, recalls the reserve and scale of the original house. Residential Observation Tower Overlooking Protected Habitats. Piercing the air with an impressive observation tower, this residential project is organized around a central stacked stone wall that acts as the building's spine.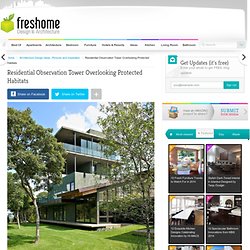 Measuring 182 feet long and 21 feet high, the impressive stone wall is visible from both the inside and the outside, creating a strong visual connection. Dallas-based Cunningham Architects designed the House On Cedar Hill and their talent is immortalized in the architectural details of this dream home. Named after its location in Cedar Hill, Texas, the 6,700 square foot contemporary residence is described by the architects: "A cantilevered concrete canopy serves as an interruption through the wall into and through the house, briefly allowing views through the dense brush of the site towards the open vista to the west.
A modern penthouse which offers a modern lifestyle with luxury and relaxation. Home » Apartments » A modern penthouse which offers a modern lifestyle with luxury and relaxation This is the House of the Tree.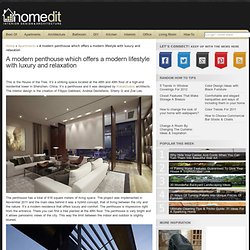 It's a striking space located at the 48th and 49th floor of a high-end residential tower in Shenzhen, China. It's a penthouse and it was designed by Kokaistudios architects. The interior design is the creation of Filippo Gabbiani, Andrea Destefanis, Sherry G and Zoe Lee. The penthouse has a total of 616 square meters of living space. MEERA HOUSE « Oh!Cosas – cosas con un oh, curisodidades, tendencias, diseño, arte, tecnología, cosas sorprendentes, diferentes, originales, creativas. Holiday Home Inspiration: White Villa at PGA Catalunya Resort. We ran across this holiday-inspiring villa and rushed to do some further research about the project as a whole.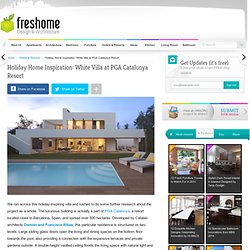 The luxurious building is actually a part of PGA Catalunya, a resort located close to Barcelona, Spain, and spread over 300 hectares. Developed by Catalan architects Damian and Francisco Ribas, this particular residence is structured on two levels. Large sliding glass doors open the living and dining spaces on the bottom floor towards the pool, also providing a connection with the expansive terraces and private gardens outside. A double-height vaulted ceiling floods the living space with natural light and a contemporary kitchen with a separate utility room makes it easier for the guests to mimic their life at home. The master bedrooms on the second level features large bathrooms and separate dressing areas with direct terrace access. 20 Most Popular Projects Presented on Freshome in 2011. Freshome readers, it is time to draw the line and reminisce about good times this year.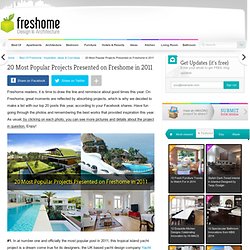 On Freshome, great moments are reflected by absorbing projects, which is why we decided to make a list with our top 20 posts this year, according to your Facebook shares. Have fun going through the photos and remembering the best works that provided inspiration this year. As usual, by clicking on each photo, you can see more pictures and details about the project in question. Enjoy! #1. The Meera House by Guz Architects. Guz Architects have sent us the Meera House they have designed in Singapore.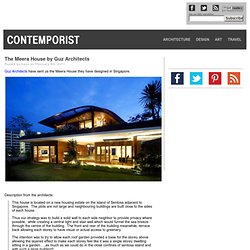 Description from the architects: This house is located on a new housing estate on the island of Sentosa adjacent to Singapore. Casa Torcida: An Eco-Friendly Home in Costa Rica. No one could resist taking a look at this eco-friendly house which is secluded in verdant trees of the coastal hillside of Osa Peninsula, Costa Rica.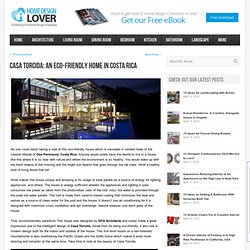 Anyone would surely have the desire to live in a house like this where it is so near with nature and where the environment is so healthy. You would wake up with the fresh breeze of the morning and the bright sun beams that goes through the tall trees. What a healthy kind of living would that be! Beautiful Houses: Dune Road in Bridgehampton, NY. Beautiful Houses: Zipper House. By GisMullr Fri, 01/13/2012 - 12:10 The idea in this series is to show beautiful and inspiring houses.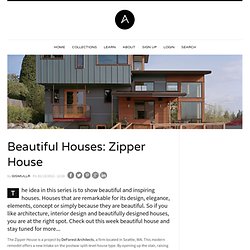 Houses that are remarkable for its design, elegance, elements, concept or simply because they are beautiful. So if you like architecture, interior design and beautifully designed houses, you are at the right spot. Check out this week beautiful house and stay tuned for more... The Zipper House is a project by DeForest Architects, a firm located in Seattle, WA.
---