Arquitectura
Beauty, Style and Grandeur atop Bear Mountain | 2300 Compass Pointe Pl, Victoria Property Listing: MLS# 298316
44 ASPEN RIDGE HT SW | 44 ASPEN RIDGE HT SW, Calgary Property Listing: MLS# C3484706
Blending in Its Surrounding Landscape: La Vinya Residence in Spain
Highly Versatile Sofa for an Interior Constantly Changing Its Appearance
Revamped Lakefront Residence Defined by Unique Details
Residential Observation Tower Overlooking Protected Habitats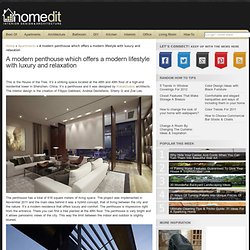 A modern penthouse which offers a modern lifestyle with luxury and relaxation
This is the House of the Tree. It's a striking space located at the 48th and 49th floor of a high-end residential tower in Shenzhen, China. It's a penthouse and it was designed by Kokaistudios architects. The interior design is the creation of Filippo Gabbiani, Andrea Destefanis, Sherry G and Zoe Lee. The penthouse has a total of 616 square meters of living space. The project was implemented in November 2011 and the main idea behind it was a hybrid concept, that of living between the city and the nature.
MEERA HOUSE « Oh!Cosas – cosas con un oh, curisodidades, tendencias, diseño, arte, tecnología, cosas sorprendentes, diferentes, originales, creativas.
Holiday Home Inspiration: White Villa at PGA Catalunya Resort
20 Most Popular Projects Presented on Freshome in 2011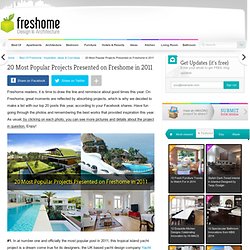 Freshome readers, it is time to draw the line and reminisce about good times this year. On Freshome, great moments are reflected by absorbing projects, which is why we decided to make a list with our top 20 posts this year, according to your Facebook shares. Have fun going through the photos and remembering the best works that provided inspiration this year. As usual, by clicking on each photo, you can see more pictures and details about the project in question. Enjoy! Share on Facebook Tweet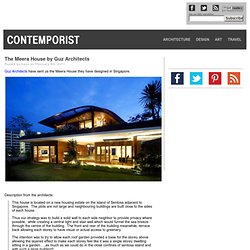 Guz Architects have sent us the Meera House they have designed in Singapore. Description from the architects: This house is located on a new housing estate on the island of Sentosa adjacent to Singapore.
The Meera House by Guz Architects
Casa Torcida: An Eco-Friendly Home in Costa Rica
No one could resist taking a look at this eco-friendly house which is secluded in verdant trees of the coastal hillside of Osa Peninsula, Costa Rica. Anyone would surely have the desire to live in a house like this where it is so near with nature and where the environment is so healthy. You would wake up with the fresh breeze of the morning and the bright sun beams that goes through the tall trees. What a healthy kind of living would that be!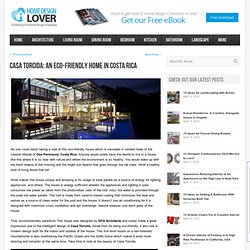 Beautiful Houses: Dune Road in Bridgehampton, NY
Beautiful Houses: Zipper House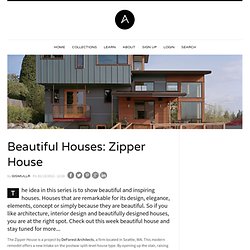 by GisMullr Fri, 01/13/2012 - 12:10 The idea in this series is to show beautiful and inspiring houses. Houses that are remarkable for its design, elegance, elements, concept or simply because they are beautiful. So if you like architecture, interior design and beautifully designed houses, you are at the right spot. Check out this week beautiful house and stay tuned for more... The Zipper House is a project by DeForest Architects, a firm located in Seattle, WA.