Sewing
How to add elbow patches to a sweater! Elbow patches are one of my favorite trends this season!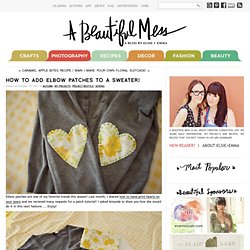 Last month, I shared how to hand print hearts on your jeans and we recieved many requests for a patch tutorial! I asked Amanda to show you how she would do it in this next feature.... Enjoy! Guitar Shaped Bag. How To Make Owl Stuffies. 10 Awesomely Altered T-Shirts | The New Home Ec. By ashleyhackshaw | Do you have a bunch of t-shirts lying around that you just aren't into anymore?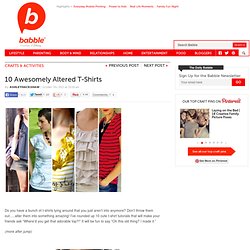 Don't throw them out…..alter them into something amazing! I've rounded up 10 cute t-shirt tutorials that will make your friends ask "Where'd you get that adorable top?!" Refashion Tutorial - Long Sleeves to Bow Sleeve T-shirt. If you've ever checked out my blog you'll know I love to change things up, my Hand-Me-Down Horror series has been all about buying yucky or just plain boring clothes and making them into something I'd be proud to wear.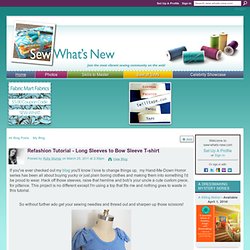 Hack off those sleeves, raise that hemline and bob's your uncle a cute custom piece, for pittence. This project is no different except I'm using a top that fits me and nothing goes to waste in this tutorial. So without further ado get your sewing needles and thread out and sharpen up those scissors! Before, a plain long sleeve Tee from Old Navy, that cost me a wopping $2.60. Make This Look. Braided Headband Tutorial. It's chilly outside here today and I'm loving it!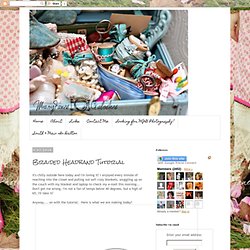 I enjoyed every minute of reaching into the closet and pulling out soft cozy blankets, snuggling up on the couch with my blanket and laptop to check my e-mail this morning... Don't get me wrong, I'm not a fan of temps below 40 degrees, but a high of 65, I'll take it! Anyway.... on with the tutorial. Here is what we are making today! What you need- Thick hair tie Six 1" strips of fabric Bulldog clip or safety pin Sewing machine (or needle and thread) Fabric tac.
---