Création mots
This website helps you to generate tree clouds from a text, that is word clouds where the words are arranged on a tree which reflects their semantic proximity inside the text. The first tree cloud appeared on Jean Véronis's blog in December 2007, you can now create your own with this website , or with the TreeCloud software .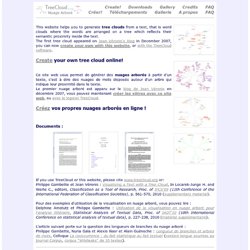 TreeCloud - Nuage arboré - Build your own tree clouds from any text!
jefferson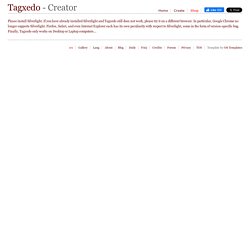 If you love Tagxedo, please consider supporting the 'Continents in Tagxedo' project at KickStarter. Your financial contribution allows me to continue offering Tagxedo for free, and without advertisement. Every bit helps, even pledge as small as $1. Generous pledges will also be rewarded with these creative, unique, and beautiful posters - a great gift you simply won't find anywhere else. Need more persuasion? Please read my blog post , or check out the video in the project page .
TypeDrawing originally started with online project in Jan 2005. Since then, a number of users have made fun and arty drawings using this program.
TypeDrawing - Hansol Huh