Création mots
This website helps you to generate tree clouds from a text, that is word clouds where the words are arranged on a tree which reflects their semantic proximity inside the text. The first tree cloud appeared on Jean Véronis's blog in December 2007, you can now create your own with this website, or with the TreeCloud software. Create your own tree cloud online! Ce site web vous permet de générer des nuages arborés à partir d'un texte, c'est à dire des nuages de mots disposés autour d'un arbre qui indique leur proximité dans le texte. Le premier nuage arboré est apparu sur le blog de Jean Véronis en décembre 2007, vous pouvez maintenant créer les vôtres avec ce site web, ou avec le logiciel TreeCloud. Créez vos propres nuages arborés en ligne !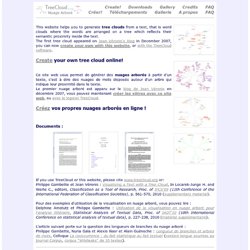 TreeCloud - Nuage arboré - Build your own tree clouds from any text!
Wordle is a toy for generating "word clouds" from text that you provide. The clouds give greater prominence to words that appear more frequently in the source text. You can tweak your clouds with different fonts, layouts, and color schemes. The images you create with Wordle are yours to use however you like.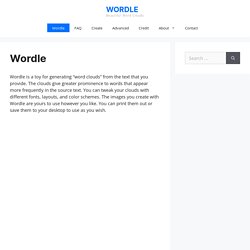 jefferson
What's a word cloud? An attractive arrangement of randomly positioned words, where the most important words are bigger than the others. What are they for?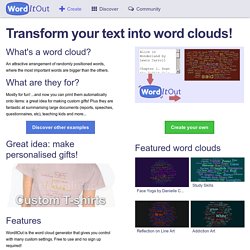 TypeDrawing originally started with online project in Jan 2005. Since then, a number of users have made fun and arty drawings using this program. Also, TypeDrawing has been featured on various famous websites like theFWA, and won several awards such as from FlashForward. In 2009, TypeDrawing iPhone version was released, and after one year, iPad version was released. Both iPhone and iPad version are way better than online version. It is much easier to draw by using your fingers (not a mouse), and many great features were added.
TypeDrawing - Hansol Huh