Crafts
most favorited last 7 days - page 2 | craftgawker - StumbleUpon
How to make roses from maple leaves | haha.nu - the lifestyle blogzine - StumbleUpon
May 3rd, 2012 Email 1339 users recommend A charming basket (or comfy pet bed) is crafted from an issue of the Sunday New York Times. Recycling never looked so good. Jeff Rudell
The "Times" They Are A-Changing: How to Make a Basket from a Newspaper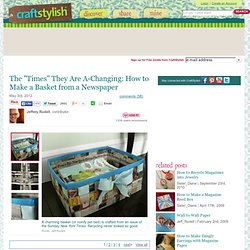 Map Purse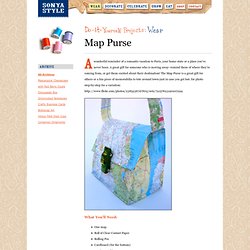 wonderful reminder of a romantic vacation to Paris, your home state or a place you've never been. A great gift for someone who is moving away- remind them of where they're coming from, or get them excited about their destination! The Map Purse is a great gift for others or a fun piece of memorabilia to tote around town-just in case you get lost. for photo step-by-step for a variation: http://www.flickr.com/photos/23852367@N03/sets/72157623190107294 What You'll Need: One map Roll of Clear Contact Paper Rolling Pin Cardboard (for the bottom) Sewing Machine One Hot Little Car! Glue Gun Velcro
10 Minute Pillowcase Apron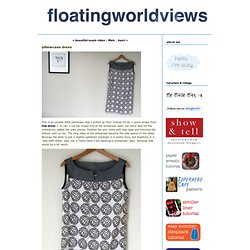 This is an unused IKEA pillowcase that I picked up from Vinnies for $2 + some scraps from this dress + ric-rac. I cut the closed end of the pillowcase open, cut some dips for the underarms, added the yoke pieces, finished the arm holes with bias tape and trimmed the bottom with ric-rac. The long sides of the pillowcase became the side seams of the dress. Because the body is just a slightly-gathered rectangle it is pretty boxy, but hopefully in a "60s-shift-dress" way, not a "Hello-here-I-am-wearing-a-pillowcase" way. Because that would be a bit weird.
floating world: pillowcase dress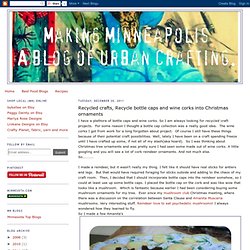 I have a plethora of bottle caps and wine corks. So I am always looking for recycled craft projects. For some reason I thought a bottle cap collection was a really good idea. The wine corks I got from work for a long forgotten about project. Of course I still have these things because of their potential craft possibilities. Well, lately I have been on a craft spending freeze until I have crafted up some, if not all of my stash(aka hoard).
Recycled crafts, Recycle bottle caps and wine corks into Christmas ornaments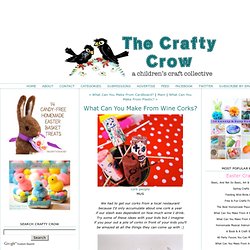 What Can You Make From Wine Corks? - The Crafty Crow
cork peopleMUS We had to get our corks from a local restaurant because I'd only accumulate about one cork a year if our stash was dependent on how much wine I drink. Try some of these ideas with your kids but I imagine if you pour out a pile of corks in front of your kids you'll be amazed at all the things they can come up with :) cork boatsTogether cork dollInna's Creations