Creative
Loud Computer Fan Noise? Check Your Printer Queue! Vector Magic File Formats. <div class='noscript'><span class='heading'>Please enable JavaScript to use Vector Magic</span> &nbsp;&nbsp;&nbsp; <a href="/support/javascript">More information</a></div> Vector Magic supports the following bitmap and vector formats.
If you would like us to add support for another format, please let us know. You can download sample output below, or check out the compatibility page to confirm that the output will work with your software. The Desktop Edition download comes with a full set of samples as well. EPS - Adobe's EPS format (Encapsulated PostScript) is perhaps the most common vector image format. 26 Beautiful Free Retro Fonts | DeMilked - StumbleUpon. Creative Truths | Ubersuper - StumbleUpon. Creative Truths Nice series called Creative Truths by Shirley-Ann Dick. 28th of September 2010.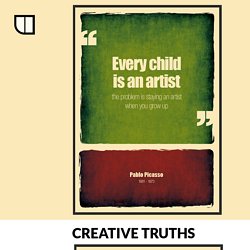 25+ Water Effect Photoshop Tutorials and Brushes. Water is beautiful, but creating its effect digitally from scratch can be dreadful, due to the complexity you have to deal with.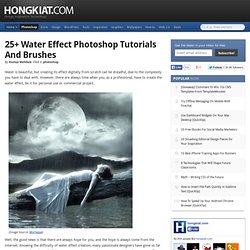 However, there are always time when you, as a professional, have to create the water effect, be it for personal use or commercial project. (Image Source: Morteque) Well, the good news is that there are always hope for you, and the hope is always come from the Internet. Dream Big by Peter Fecteau | koikoikoi - StumbleUpon. CSSREMIX.
ArtistsWhoTHRIVE. Stephanie rachmeler. How To Add Color To Black and White Photos in Photoshop. NOTE: If the following tutorial feels overwhelming, or you're just not interested in learning the software and would rather pay a professional, there ARE other options.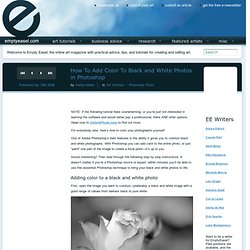 Head over to ColorAPhoto.com to find out more. For everybody else, here's how to color your photographs yourself: One of Adobe Photoshop's best features is the ability it gives you to colorize black and white photographs. With Photoshop you can add color to the entire photo, or just "paint" one part of the image to create a focal point—it's up to you. 10 Amazing Cartoon Effect Photoshop Tutorials « Free PSD Tutorials for Photoshop, Graphics,Freebies.
Photoshop cast shadow tutorial in Photoshop. Open your image and remove it from the background.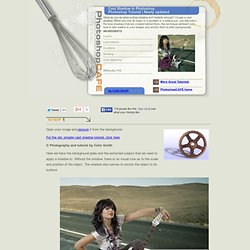 For the old, simpler cast shadow tutorial, click here © Photography and tutorial by Colin Smith Here we have the background plate and the extracted subject that we need to apply a shadow to. Create Perspective Using Simple 2D Art with Illustrator CS4 | Layers Magazine. Like most things in design, you can make quite an impact by modifying how people perceive things.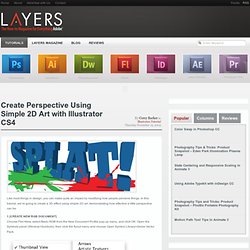 In this tutorial, we're going to create a 3D effect using simple 2D art, demonstrating how effective a little perspective can be. 1 [CREATE NEW RGB DOCUMENT] Choose File>New, select Basic RGB from the New Document Profile pop-up menu, and click OK. Open the Symbols panel (Window>Symbols), then click the flyout menu and choose Open Symbol Library>Grime Vector Pack. 2 [DRAG SYMBOL ONTO ARTBOARD] Next, click-and-drag Grime Vector Pack 09 from the Grime Vector Pack panel onto the artboard. Design a Coffee Shop Menu Layout from Scratch with Photoshop and InDesign – Part 2 | Blancer.com Tutorials and projects. Design a Coffee Shop Menu Layout from Scratch with Photoshop and InDesign – Part 2 This is the second part of this tutorial series about creating a ready to print booklet menu for an imaginary coffee shop named "Violet Coffee.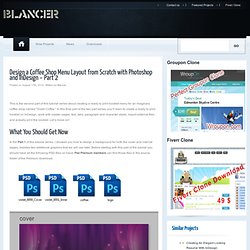 " In this final part of the two part series, you'll learn to create a ready to print booklet on InDesign, work with master pages, text, tabs, paragraph and character styles, import external files and actually print the booklet. Let's move on! What You Should Get Now In the Part 1 of this tutorial series, I showed you how to design a background for both the cover and internal pages, besides two additional graphics that we will use later. 40 Must See Cool Short Animation Websites | Dzine Blog.
Learn how to earn $125 or more per hour as a freelancer - Click Here Looking for hosting?.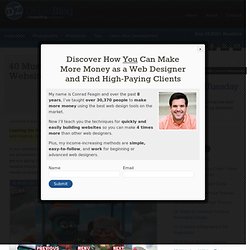 We recommend MediaTemple for web hosting. 30+ Nicest Photoshop Photo Tutorials, Part II. You might not be the best photographer, but this doesn't mean the photos you publish will suck.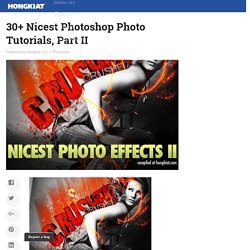 We've previously showcased 41 nicest photo effects tutorials you can adapt, now here's more. By adding this new 30+ Nicest Photoshop Photo Tutorials to our previous entry, you have over 70 ways to enhance photos taken with digital camera, or even dSLR. 10 Ways to Take Stunning Portraits. A Post By: Darren Rowse How do you take Portraits that have the 'Wow' factor?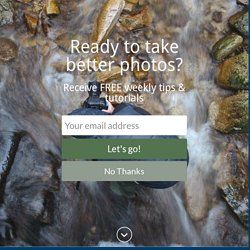 Today and tomorrow I want to talk about taking Portraits that are a little out of the box. You see it's all very well and good to have a portrait that follows all the rules – but it hit me as I was surfing on Flickr today that often the most striking portraits are those that break all the rules.
---