DESIGN FAIRS
Florence design week - international design festival
salondudesign-metz -
Salon de l'innovation et du design - metz: 6 au 9 juin 2013 La 1 ère édition du Salon de l'Innovation et du Design aura lieu à Metz en Juin 2013. Devant la multiplicité de définitions et interprétations du terme « design », nous avons choisi de lier design et innovation sur ce site de manière à favoriser une approche de la démarche design à travers ses acteurs. En présentant les designers, leurs réalisations et leurs projets aux côtés des chercheurs et entrepreneurs travaillant à la création de produits, concepts, process innovants, nous mettons l'accent sur l'interaction entre la recherche, les travaux de laboratoire et la mise en pratique par des agences pour une application. Esprit design, design attitude au sens large seront le dénominateur commun de nos exposants et des visiteurs
ICFF
Home | Design Days Dubai
Clerkenwell Design Week 2012 | Home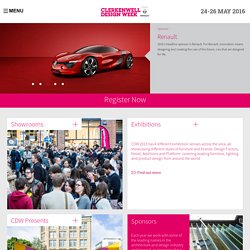 About CDW After 4 extremely successful years, Clerkenwell Design Week has established itself as the UK's leading independent design festival and one of the most acclaimed trade events on the international design calendar, winning Best Live Event at the AEO Awards and Best Festival and Best Cultural Event at the UK Event Awards to attest to its success. Boasting over 60 showrooms, a wealth of creative businesses and more architects per square mile than anywhere else on the planet, CDW takes advantage of this creative hub every May for 3 days. Latest News Delightfully Dezeen Dezeen is one of the most popular and influential design and architecture blogs on...
New Designers is the UK's most important graduate design exhibition, full of innovation and fresh thinking. It takes place over two weeks, with each Part focusing on a different set of design disciplines and featuring its own Awards Programme. The show sees over 3,000 of the most talented, newly graduated designers from the UK's leading universities come together to exhibit in one spectacular venue - the Business Design Centre, London.
New Designers 2012 - New Designers | Welcome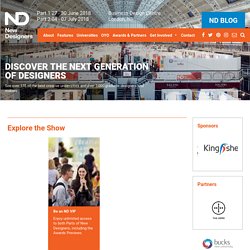 The Design Observeur 11 took place at the Cité des Sciences et de l'Industrie, La Villette, in Paris, from 9 November 2010 to 13 March 2011. The Design Observeur is sponsored by: The French Ministry for the Economy, Industry and Employment, the association Lieu du Design Paris Île-de-France, the City of Paris, OSEO and the INPI [National Institute for Industrial Property]. Professional organisations: AFD [French Development Agency], FNSAI [National Federation of Interior Designer Unions], INDP [National Institute for Packaging Design], designers interactifs*, matériO International labels: ICSID and BEDA
Design Observeur 11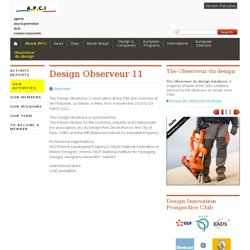 villa noailles architecture/ mode/ design/ photographie + saint bernard exposition permanente NEWS i AGENDA i INFORMATIONS PRATIQUES i JEUNE PUBLIC i HISTOIRE DE LA VILLA NOAILLES i ÉDITIONS i L'ASSOCIATION DES AMIS DE SAINT BERNARD PRESSE i CONCOURS i RÉSIDENCES i PARTENAIRES i BLOGS i ÉQUIPE i ARCHIVES i Charles et Marie-Laure de Noailles, une vie de mécènes L'exposition permanente Charles et Marie-Laure de Noailles, une vie de mécènes est ouverte jusqu'au 18 avril.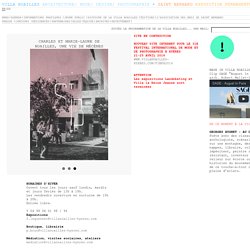 DMY 2012 · International Design Festival Berlin · 6 - 10 June 2012
Home
Ensure early bird discount now! 74Days01Hrs.21Min.14Sec. Create. Furnish.