Games
(rol) Civilization Log in. Welcome to (CIV), a web adaptation of the board game Advanced Civilization by Avalon Hill Games.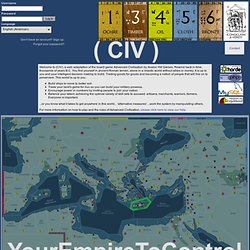 Rewind back in time, thousands of years B.C. You find yourself in ancient Roman terrain, alone in a chaotic world without allies or money. It is up to you and your intelligent decision making to build. Trading goods for goods and becoming a nation of people that will live on to perservere. This world is up to you.
Might and Magic Heroes Kingdoms - Jeu de stratégie massivement m. Games.AsoBrain.com - Java based multiplayer games. GROW CUBE. Empire Universe 2. Jeu sur Navigateur de l'année 2007 en Allemagne - Meilleur jeu de stratégie !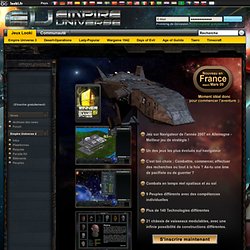 Un des jeux les plus évolués sur navigateur C'est ton choix : Combattre, commercer, effectuer des recherches ou tout à la fois ? As-tu une âme de pacifiste ou de guerrier ?
---