Behind the iPhone
Balda is a spe­cial­ist for plas­tics so­lu­tions that re­quire pre­ci­sion, qual­ity, safety and spec­i­fi­ca­tions tai­lored to cus­tomer re­quire­ments. The Group's Balda Med­ical seg­ment man­u­fac­tures for the health­care sec­tor, with ap­pli­ca­tions in di­ag­nos­tics, pharma and med­ical tech­nol­ogy, while the Balda Tech­ni­cal seg­ment serves cus­tomers in sec­tors such as op­tics, elec­tron­ics and au­to­mo­tive. The Group sup­plies prod­ucts to sec­tors that, as re­sult of fun­da­men­tal trends such as pop­u­la­tion de­vel­op­ment, promise con­tin­u­ous growth in the long term.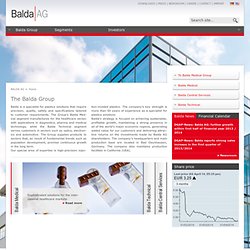 AG - Values by technology and processes
Marvell Technology Group Ltd. -- The Market leader in Switching,
Broadcom.com - Home
Taiwan Semiconductor Manufacturing Company Limited
UMC
Catcher Technology Co., LTD.