Digitalization
Conway's law is an adage named after computer programmer Melvin Conway , who introduced the idea in 1968. It states that " organizations which design systems ... are constrained to produce designs which are copies of the communication structures of these organizations ". [ 1 ] Although sometimes construed as humorous, Conway's law was intended as a valid sociological observation. It is based on the reasoning that in order for two separate software modules to interface correctly, the designers and implementers of each module must communicate with each other. Therefore, the interface structure of a software system will reflect the social structure of the organization(s) that produced it. [ edit ] Examples
Conway's Law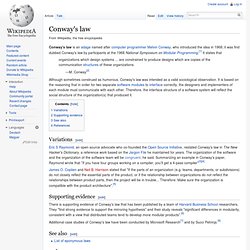 Apple Inc. (company): What is the internal culture like at Apple
Working At Apple
Former employees shed light on Apple's internal corporate culture
"Any software that does much of anything is going to have some kind of learning curve associated with it. " Agreed. and I have made it through the learning curve.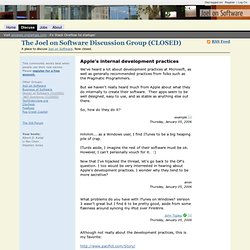 The Joel on Software Discussion Group (CLOSED) - Apple's internal development practices
Graphing Calculator Story
Apple's Management Obsessed With Secrecy
Jonathan Ive on The Key to Apple's Success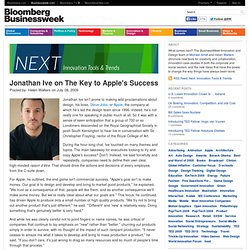 Posted by: Helen Walters on July 08, 2009 Jonathan Ive isn't prone to making wild proclamations about design, his boss, Steve Jobs , or Apple , the company at which he's led the design team since 1996. Indeed, he's not really one for speaking in public much at all. So it was with a sense of keen anticipation that a group of 700 or so Londoners descended on the Royal Geographical Society in posh South Kensington to hear Ive in conversation with Sir Christopher Frayling, rector of the Royal College of Art. During the hour-long chat, Ive touched on many themes and topics.
Jonathan Ive on the ethical implications of Apple's business Posted by: Helen Walters on August 11 There's been quite a flurry of excitement in the online media-sphere of late, after entrepreneur, CEO, some time journalist (and BusinessWeek columnist) Jason Calacanis published The Case Against Apple—in Five... Jonathan Ive on The Key to Apple's Success Posted by: Helen Walters on July 08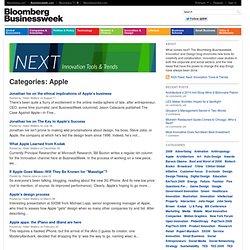 Top Trends in Innovation Blog Apple Archives
Interesting presentation at SXSW from Michael Lopp, senior engineering manager at Apple, who tried to assess how Apple "gets" design when so many other companies try and fail. After describing Apple's process of delivering consumers with a succession of presents ("really good ideas wrapped up in other really good ideas" — in other words, great software in fabulous hardware in beautiful packaging), he asked the question many have asked in their time: "How the f*ck do you do that?" (South by Southwest is at ease with its panelists speaking earthily.) Then he went into a few details: Pixel Perfect Mockups This, Lopp admitted, causes a huge amount of work and takes an enormous amount of time.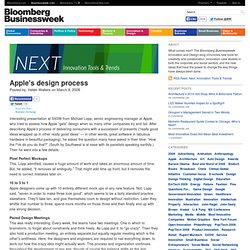 Apple's design process
Stifling security marks Apple corporate culture
Apple's security culture The level of secrecy in Apple's corporate culture is "super paranoid," say people with experience in the company. The issue has come into particular focus with news of a liver transplant performed on CEO Steve Jobs, which despite its relevance to workers and investors has been kept outside of public knowledge for two months. A senior official, typically said to be more open to talking with the media, has refused to disclose anything to the New York Times .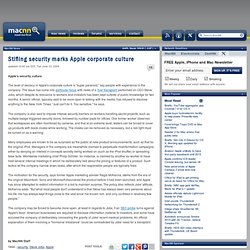 Applepeels
Google's Pixel has certainly generated plenty of publicity. I have read more in a shorter time about the Pixel than any other Google hardware product. If nothing else Google seems to have learned how to get some free publicity on a product.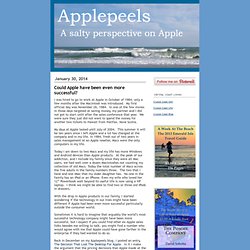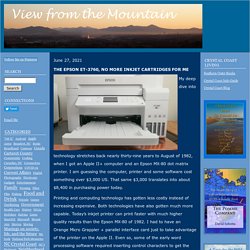 Applepeels: The Apple Corporate Culture
For many years, the most challenging management task at Apple was keeping your employees from working themselves to death. I can remember leaving the office at eight or nine o'clock at night and having to remind very dedicated system engineers that they had families and lives outside of Apple. There have never been enough people at Apple to get the job done well as folks driven to be the best thought necessary.
7 June 2010 | Andy Allen A report by AMR Research has named Apple as the company with best supply chain practices in the world for the third year running. AMR praised Apple's "embedded innovation, networked supply and demand shaping". It also highlighted the company's effective use of vertical integration as a strategy, in particular the purchase of chipmaker Intrinsity "acquired by Apple to 'steal a march' on competitors looking to enhance the performance of mobile devices". In a feature exploring the secret behind Apple's success , SM found the company's ability to bring together two sides of the supply chain (digital and physical) efficiently and at increasingly low cost is a central plank to its rise to global dominance.
Apple's supply chain judged best in world again | Official CIPS Magazine – Supply Management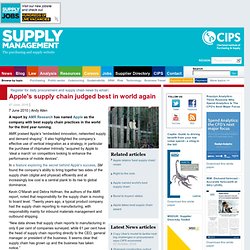 Right to the core | Official CIPS Magazine – Supply Management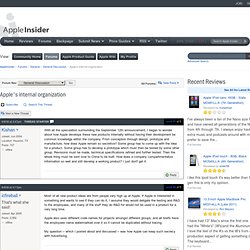 Apple's internal organization [Archive] - AppleInsider
okay, so the ideas originate high up... someone still needs to take that idea and actually turn it into a working device. If the device is something new, they can't just use off the shelf parts to put it together (can they?). I am having trouble imagining different groups of people working on independent projects that are ultimately supposed to fit together into a working device. Lets take the original iPod. Someone high up had to come up with the idea for a hard drive based music player... okay fine... now what's the next step? Asthetic design?