PADagogy
Bloom's Apps - 21nnovate. Padagogy. When I received the invitation from the new Lee Kong Chian School of Medicine at the Nanyang Technological University in Singapore, I decided to completely upgrade two seminar workshops.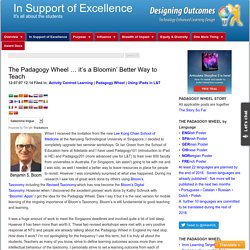 Dr Ian Green from the School of Education here at Adelaide and I have used Padagogy101 (introduction to iPad in HE) and Padagogy201 (more advanced use for L&T) to train over 600 faculty from universities in Australia. For Singapore, Ian wasn't going to be with me and I was solo, as well I needed a better way to leave resources in place for people to revisit. However I was completely surprised at what else happened. During my research I saw lots of great work done by others using Bloom's Taxonomy including the Revised Taxonomy which has now become the Bloom's Digital Taxonomy. However when I discovered the excellent pioneer work done by Kathy Schrock with "Bloomin' Apps" I got the idea for the Padagogy Wheel.
iPad in the Classroom - LibGuides at New Trier High School.
---