National Curriculum for England
This area of the site contains the National Curriculum for England at Key Stages 1 and 2. It includes programmes of study and attainment target level descriptions for all Key Stage 1 and 2 subjects. The content on these pages is about the existing National Curriculum. View the draft new National Curriculum that will apply from 2014. From September 2013 the current national curriculum programmes of study, attainment targets and statutory assessment arrangements will be disapplied for English, mathematics and science for pupils in years 3 and 4 and all foundation subjects for pupils at key stages 1 and 2. This means that schools will still be required to teach the relevant subjects, but will have the freedom to adjust their curriculum to help prepare for the introduction of the new national curriculum from September 2014.
PRIMARY_national_curriculum_-_English_RS2
Purpose of study English has a pre-eminent place in education and in society. A high-quality education in English will teach pupils to speak and write fluently so that they can communicate their ideas and emotions to others, and through their reading and listening, others can communicate with them. Through reading in particular, pupils have a chance to develop culturally, emotionally, intellectually, socially and spiritually. Literature, especially, plays a key role in such development. Reading also enables pupils both to acquire knowledge and to build on what they already know.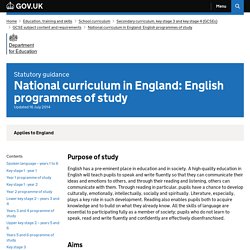 National curriculum in England: English programmes of study
Site map | National Curriculum | Teachfind
This is the statutory national curriculum framework, including programmes of study and attainment targets for all subjects at all key stages 1 to 4, except key stage 4 English, mathematics and science, which will follow after a public consultation on their draft programmes of study. These are to be taught in all maintained primary and secondary schools in England from September 2014. Separate versions containing just the primary (key stages 1 to 2) and secondary (key stages 3 to 4) curriculums are also available. The html version covers chapters 1 to 7 of the national curriculum framework document. These set out contextual information about the school curriculum and the statutory national curriculum, statements on inclusion and the development of pupils' competence in numeracy and mathematics, language and literacy.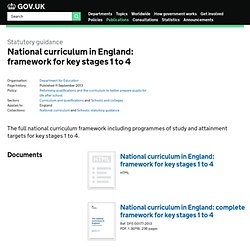 National curriculum in England: framework for key stages 1 to 4 - Publications
Secretary of State, Department for Education - Rt Hon Michael Gove MP: Over the past year the review of the National Curriculum in England has been looking at curricula in the highest performing, and fastest improving, jurisdictions internationally. Today I am publishing a set of initial findings and recommendations. The review team's work has uncovered a consistent theme: these high-performing jurisdictions set materially higher expectations in terms of what they believe children can and should master at different ages. This comes as no surprise. Over the past ten years our education system as measured by performance in the OECD's PISA international league tables has deteriorated significantly.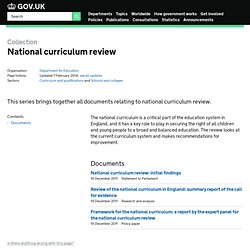 Review of the National Curriculum in England
The Standards Site: Welcome to Schemes of Work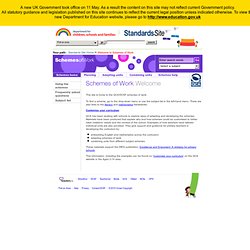 This site is home to the QCA/DCSF schemes of work. To find a scheme, go to the drop-down menu or use the subject list in the left-hand menu. There are also links to the literacy and mathematics frameworks. Customise your curriculum
The National Curriculum - Handbook for Primary Teachers in Enland (1999)
BBC - Schools Parents - National Curriculum
Lesson Plan Search Engine